Having won the Carabao Cup (again) last Sunday, and with one leg in the UEFA Champions League final, Manchester City FC can win the Premier League on Sunday.
Pep Guardiola's side is six points from winning the Premier League title, but could win it as soon as Sunday if Manchester United is beaten by the ruining Champions; Liverpool FC.
With three almost in the bag with City having a comfortable 2:0 lead over Crystal Palace, the remaining three points will be gifted to them by the current champions Liverpool if they (Liverpool) beat title chasers Manchester United on Sunday at Old Trafford.
Ironic is the fact that the current champions who have had a disappoint title defense season will literally hand over their crown to Manchester City, back to the team they took the crown from in 2019-2020 season.
However, Guardiola says he has seen enough of Ole Gunnar Solskjaer's United side to expect the title race to go on for a little longer at least.
Asked if he was thinking about potential success this weekend, City manager Guardiola told reporters on Friday: "Let me travel to London this afternoon, try to wake up good tomorrow and try to win the game.
"The rest we cannot control. It is a tough job. Crystal Palace has always been so difficult for us, I don't remember an easy game when we play against them.
"United are an extraordinary team. They've arrived in their best form of the season in the last two months.
"We need five points to be champions. Tomorrow (Saturday) we have an incredible opportunity to make this next step.
"Once we win this game, if it happens, we will think about what will happen.
"Now I cannot explain about the feelings in the future because I haven't experienced it."
If the title elude them this weekend, Man City can still win the title on 8th May at home with a victory against Chelsea.
If they play out a draw against Chelsea, they will be crowned champions on Friday 14th May with a draw against Newcastle at St. James Park.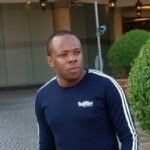 Nnamdi Maduakor is a Writer, Investor and Entrepreneur