On Friday, 30th April 2021, the Debt Management Office (DMO) Nigeria published an update on the status of China loans as at December 31, 2020.
The document seen by Investogist shows that as at the date in review, the Federal Government of Nigeria has obtained 15 loans from the China EXIM (The Export-Import Bank of China).
Of the 15 loans, 14 were denominated in United States Dollar (USD) while 1 was denominated in Chinese Yuan (CNY). The USD denominated loans summed up to USD6.168 billion, while the CNY denominated loan stood at CNY 2.300 billion (USD355.24 million).
The first loan worth USD200 million was agreed on 12th January 2006 for a Nigerian Communications Satellite. The 12 years tenor loan has been fully repaid including the interest of USD40.02 million at a 3.00% per annum interest rate. It is the only loan that has matured and was fully repaid.
Aside the first loan, every other loan was for a 20 year tenor, with interest rates at 2.5% per annum (12 Loans), and 2.75% per annum (2 loans).
Zero amount has been disbursed for 6 of the loans (for those agreed between May 2018 and December 2019), while 100.00% of 5 of the loans has been disbursed (for those agreed between December 2010 and January 2013).
A USD325.67 million loan agreed on 26 April, 2016 for a project titled "Nigerian 40 parboiled rice processing plants project (Fed. Min. of Agric & Rural Dev.)" has received ZERO funding as at the date in review.
4 of the loans have received various levels of funding; 91.06%, 57.14%, 69.77%, and 24.42%.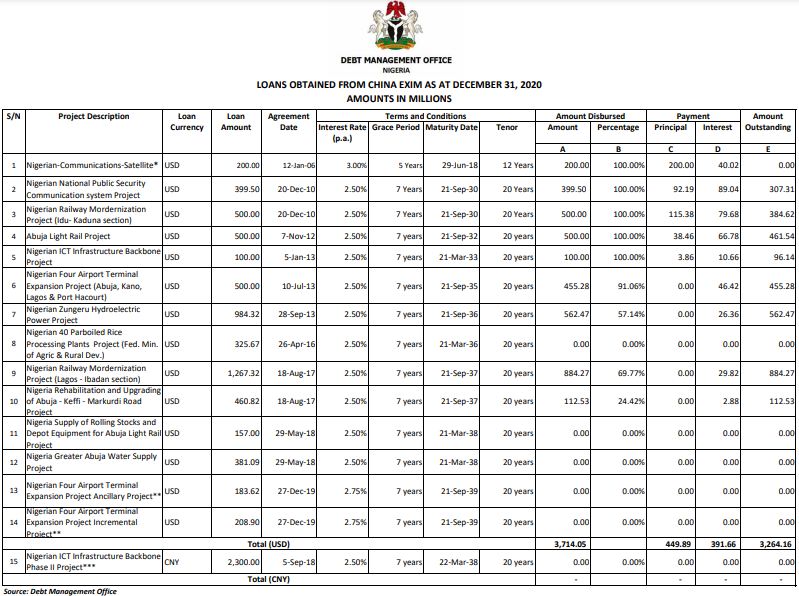 The NigComSat-1
NigComSat-1 was a Nigerian communication satellite, which was built by the China Great Wall Industry Corporation. The initial contract to build it was signed in 2004.
It was launched in China by Nasrda on 13 May 2007, a board a Chinese Long March 3B carrier rocket, from the Xichang Satellite Launch Centre in China, it became the third African geosynchronous communication satellite.
The Spacecraft was operated by Nigerian Communications Satellite Ltd (NIGCOMSAT). Its design was to provide coverage to many parts of Africa on C-band and Ku-band, a global navigation beam on L-band and the Ka-band transponders with spot beams over Nigeria, South Africa and Europe.
On 10 November 2008 (0900 UTC), the satellite was reportedly switched off for analysis and to avoid a possible collision with other satellites. According to Nigerian Communications Satellite Limited, it was put into "emergency mode operation in order to effect mitigation and repairs". The satellite eventually failed after losing power on 11 November 2008.
On March 24, 2009, the Nigerian Federal Ministry of Science and Technology, NigComSat Ltd. and CGWIC signed a further contract for the in-orbit delivery of the NigComSat-1R satellite. NigComSat-1R also uses the DFH-4 satellite platform with improvements over the previous satellite, and was delivered in the fourth quarter of 2011 as a replacement for the failed NigComSat-1. It was successfully launched on December 19, 2011.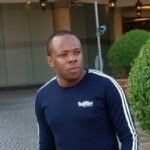 Nnamdi Maduakor is a Writer, Investor and Entrepreneur