The Lagos State Government on Saturday shortlisted bidders for the construction of the fourth Mainland Bridge. This was contained in a statement released by the office of Public -Private Partnership (PPP).
The Special Adviser to the Lagos State Governor on PPP, Mr. Ope George, at a Media briefing according to a Punch report explained that the fourth Mainland Bridge project was a Public -Private Partnership transport infrastructure development, which included the construction and operation of a green field tolled road and bridge with a design speed of 120km/h, including the development of adjacent real estate.
"The bridge is expected to span about 37 kilometres, starting from Abraham Adesanya in Ajah, on the Eri-Osa-Lekki-Epe corridor and transverse from the Northwest towards the lagoon shoreline of the Lagos-Ibadan Expressway via Kwuru/Isawo in Ikorodu," the Special Adviser stated.
On completion, the bridge is expected to become the second longest on Africa, featuring three toll plazas, nine interchanges, a 4.5km lagoon bridge and an eco-friendly environment and is expected to cost US$2.5 billion.
With the project having gone through the Request for Proposal Stage I, the Request for Proposal Stage II was issued to three shortlisted bidders, namely:
Mota-Engil (Nigeria & Africa) CCCC & CRBC consort.
CGGC-CGC Joint Venture, and
CCECC & CRCCIG Consortium
The Special Adviser went on to say that the three shortlisted bidders on the 17th of November 2022 submitted their respective RFP Stage II documents. The Evaluation committee, which comprise representatives from the the Ministry of Works, Office of Public -Private Partnership and the Project Advisers are evaluating the submissions and would announce a preferred bidder before the end of the year.
Bridge history (Source: Premium Times)
In 2016, the then governor, Akinwunmi Ambode, signed a memorandum of understanding with a consortium of firms for the construction of the 38-kilometre fourth mainland bridge.
At the time, about five companies were shortlisted for the project estimated to cost N844 billion.
One year later, Mr Ambode terminated the MOU with the firms citing "slow pace of work."
Only Julius Berger Nigeria Plc was retained in the latest shortlist.
According to Mr Ambode, the bridge would pass through Lekki, Langbasa, and Baiyeku towns along the shoreline of the Lagos lagoon estuaries, through Igbogbo River Basin and then crossing to Itamaga Area in Ikorodu. It would also cross the Itoikin Road and the Ikorodu-Sagamu Road to connect Isawo inward the Lagos-Ibadan Expressway at Ojodu Berger axis.
Mr Ambode's predecessor, Babatunde Fashola, had also promised to begin the construction of the bridge.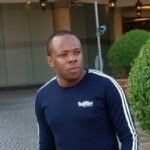 Nnamdi Maduakor is a Writer, Investor and Entrepreneur