In the words of the Vice President, Prof. Yemi Osinbajo at the ground breaking ceremony of the Bonny-Bodo bridge/road project, held at Bonny Island , Rivers State, on Thursday, October 12, 2017, paraphrased here;
The idea behind the Bonny-Bodo Bridge is about 40 years old, but until now, it has remained merely an idea.
Yes, there has been no road link between Bonny Island, home to Nigeria's greatest Oil and Gas sector success story; Nigerian LNG Limited and mainland Rivers State, and therefore the rest of Nigeria.
Also read; Nigerians will soon know the "actual truth" about Atiku – Gov Wike
Still under construction, the 35.7km Bodo-Bonny Road Project will be the first road to connect oil-rich Bonny Island to mainland Rivers State, a major landmark in the region's history.
The Bonny-Bodo bridge and road project is a Public Private Partnership arrangement, in which the Federal Government and the Nigeria Liquefied Natural Gas Company Limited (NLNG) will each bear 50 per cent of the N120.6 billion that it will cost to complete the bridge.
Over the years, the has approved additional sums to augment the initial project amount.
The Bodo-Bonny Road cuts across four local Governments in Rivers State and the project further reinforces the value that can be created through public-private partnership. The project is a tripartite agreement between the Federal Government, Nigeria LNG (NLNG), and Julius Berger Nigeria Plc.
Technically, the road is a massive undertaking with many construction challenges due to the low lying marshy area, muddy and swampy soil conditions and considerable tidal movements.
The project scope comprises;
37.9km road across swamp terrain
17 small and large bridges of lengths varying between 36m to 713m. These includes cross culverts, two mini bridges with span of 23m each as well as two creek bridges; Afa Creek Bridge of about 530m length and Nanabie Creek Bridge of about 640m length.
5,500m concrete road
3,100,000 m3 sand
11,000,000m vertical drains
750m long major river bridge over the Opobo Channel.
Julius Berger Plc that is handling the project uses incremental launching for bridge construction. The highly mechanized method consists of manufacturing the superstructure of the bridge by sections in a prefabrication area behind one of the abutments with each new unit concreted directly against the preceding one – after it has hardened the resultant structure is launched forward over temporary sliding bearings.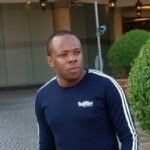 Nnamdi Maduakor is a Writer, Investor and Entrepreneur