GBPUSD: The cable continues to play out nicely since its false break above the rising channel at 1.410. I mentioned that a false break like this usually provides an extended move in the opposite direction hence, I can say that I expect the cable to weaken some more.
Last week saw the pair close below channel support 1.3860. A retest of 1.3860 will provide a good short opportunity. Sellers are currently retesting 1.377 support above the channel which buyers closed the pair on Friday.
Strong support comes in 1.3480 followed by 1.325.
Read also: FY 2020: Ikeja Hotel Plc reports over N6 bn loss, first loss in over a decade
Alternatively a close back into 1.3680 will negate the false break.

GBPUSD daily time frame
AUDUSD
AUDUSD confirmed a potential reversal with a close below 0.7640 on Wednesday of last week. Friday's close nearly retested the neckline of the head and shoulders now resistance.
Since May of 2020 the Aussie has rallied without a significant correction. This pattern stands at a height of 415 pips which puts the measured objective at 0.722 below 0.7300 support level. Support level in the way down includes 0.7500 and 0.7300.
Alternately a close back above 0.7640 will negate the bearish and most likely continue the bull run.
AUDUSD daily time frame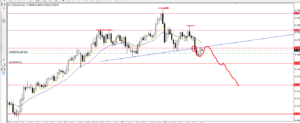 GBPCHF
GBPCHF rallied impressively in past weeks and is in consolidation as it ranges between 1.295 and 1.2788. 1.295 has resisted buyers in 10 sessions. This continuous pressure on the resistance makes me believe that it is only a matter of time before buyers break through it.
It is only a daily close above 1.295 that will confirm a break out from the range and expose 1.315 and 1.33981.
A daily close below 1.2788 will most likely send the pair lower in a corrective move. Resistance comes in at 1.247 and 1.222. GBPCHF daily time frame.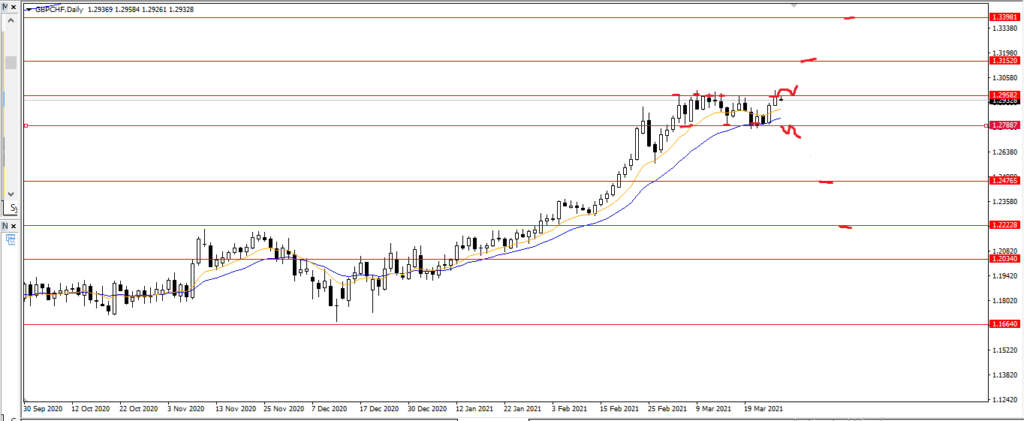 USDJPY
USDJPY broke out of a three year trend line with Friday's close above 109.30 as long as price stays above 109.30 I have to respect the potential for move higher.
We can see how the trend line resisted the pair in the past years making it quite a significant level.
Resistance comes in around 111.109 and 112.208
A close below 109.30 will negate the bullish idea or at least delay a further rise for USDJPY.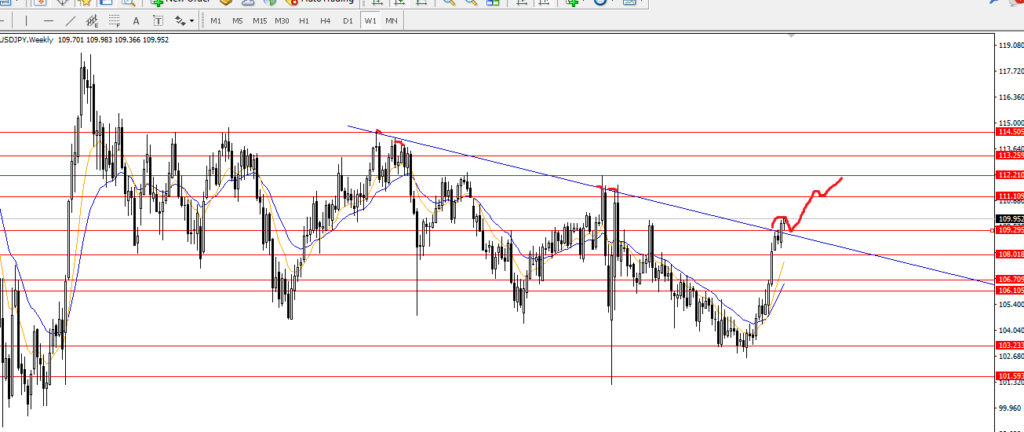 USDJPY weekly time frame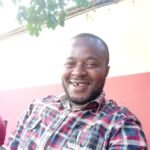 Engineer, Entrepreneur, forex trader and Analyst