Zenith Bank Plc (NGX: ZENITHBANK) has posted a profit after tax of N174.33bn for the nine months period ended 30th September, 2022. The reported profit is an 8.55% year-on-year growth on the profit reported for the same period in 2021, according to the consolidated and separate interim financial statements for the period analysed by Investogist.
A review of the financial statements showed that the Bank's earnings from fee and commission income grew by 27.79%, the highest growth by any of its revenue segments. Account maintenance fee and fees on electronic products accounted for more than 50% of this earnings with N28.14bn and N36.06bn respectively.
Analysis of Statement of Profit or Loss and Other Comprehensive Income
Gross Earnings: Zenith Bank posted a gross earnings of N620.57bn, 19.65% increase on the N518.67bn it reported for the 9 months of 2021. The Interest and similar income grew by 26.52% from N308.84bn to N390.75bn. Interest from loans and advances to customers, Government and other bond, and treasury bills constituted most of the interest income with N261.25bn, N86.43bn and N33.68bn respectively.
Personnel expenses: The personnel expenses remained relatively unchanged at N61.46bn.
Operating expenses: The was a 25.35% increase in the amount of money the bank spent on operating expenses. From N136.95bn sent in 9M of 2021, the bank spent N171.66bn in 9M 2022. The highest amount on the operating expenses list is the N44.01bn AMCOM levy, followed by N22.92bn spent on Fuel and maintenance, and then N22.21bn spent on Information Technology.
Profit before tax: Zenith posted a 12.65% growth in profit before tax; N202.54bn in 9M 2022, against N179.81bn in 9M 2021. The company went on to pay a total of NN28.21bn in income taxation (9M 2021: N19.21bn).
Profit after tax: The profit after tax grew from N160.59bn in 9M 2021 to N174.33bn in 9M 2022, an 8.55% increase.
Earnings per share: ZENITHBANK posted an Earnings per Share of N5.55 in the 9 months period under review.
Analysis of Statement of Financial Position
Cash and cash equivalents: The cash and cash equivalent held by ZENITH as at 30 September 2022 went up 25.76% to N1.87tn when compared with what it had as at 31st December 2021, at the time it held N1.48tn.
Total Assets: The company's assets went up by 20.05%, from N9.44bn as at 31st Dec. 2021 to N11.34n as at 30th September 2022. The highest component of the company's asset is the N3.88tn of loans and advances it has given, out of which N2.70tn are term loans while N589.27bn are overdraft.
Total Liabilities: The total liabilities rose by 22.83% to N10.03tn, from the N8.16tn liabilities on its books as at 31 Dec. 2021. The bulk of the liabilities came from customers' deposits, which itself rose by 24.26% from N6.47tn to N8.04tn.
Shareholder's fund: The shareholder's fund increased marginally, growing by 2.27% from N1.27tn to N1.30tn as at 30 September 2022. The retained earnings, the major component of the Shareholder's fund also increased marginally, growing by 5.11% to N7.36bn.
Analysis of Statement of Cash Flow
Operating activities: Zenith generated N1.19tn from operations.
Investing activities: It used N520.34bn in investing activities.
Financing activities: N69.25bn was generated from financing activities.
About Zenith Bank Plc
Zenith Bank Plc (the "Bank") was incorporated in Nigeria under the Companies and Allied Matters Act as a private limited liability company on May 30, 1990. It was granted a banking licence in June 1990, to carry on the business of commercial banking and commenced business on June 16, 1990. The Bank is domiciled in Nigeria and was converted into a Public Limited Liability Company on May 20, 2004.
The Bank's shares were listed on October 21, 2004 on the Nigerian Stock Exchange. In August 2015, the Bank was admitted into the Premium Board of the Nigerian Stock Exchange.
The registered office address of the company is Plot 84/87 Ajose Adeogun street, Victoria Island, Lagos.
The principal activity of the Bank is the provision of banking and other financial services to corporate and individual customers. Such services include granting of loans and advances, corporate finance and money market activities.
The Bank has six subsidiary companies namely, Zenith Bank (Ghana) Limited, Zenith Pensions Custodian Limited, Zenith Bank (UK) Limited, Zenith Bank (Sierra Leone) Limited, Zenith Bank (The Gambia) Limited and Zenith Nominees Limited. The Bank also has a representative office in China in addition to operating a branch of Zenith Bank (UK) Limited in the United Arab Emirates.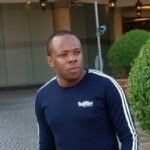 Nnamdi Maduakor is a Writer, Investor and Entrepreneur