As the New York times wrote, "a little-know entrepreneur until just a few years ago, Mr. Braun had forged an obscure Bavarian company called Wirecard into a German tech icon, winning a coveted spot on the benchmark DAX stock index."
On its website, Wirecard called on the customers and investors to put their trust in it that it is a leading innovation driver, stating that the future of digital financial technologies starts with them. With events of recent times culminating in the company filing for insolvency, that statement is now clearly in doubt.
Wirecard provided the invisible financial plumbing that, with a wave of plastic over a card reader almost anywhere in the world, made transactions happen. Hedge funds and global investors scrambled to buy shares of the company.
The story of this company that started in a Munich suburb in 1999, backed by venture capital in the late stages of the dotcom bubble, to be a payment processor, helping websites collect credit card payments from customers, has been a fascinating one.
Read also; SEC warns against iBSmartify Nigeria the promoters of iBledger and InksNation illegal products
From almost going bust in 2002, to joining the Frankfurt stock market in 2005, to its moves into the banking business with the purchase of XCOM in 2006, came the first accusation of balance sheet irregularities in 2008.
2015 brought a Financial Time series called the House of Wirecard, which raised questions about inconsistencies in the group's accounts. Wirecard got a gift of a clean audit from EY, which saw its share price more than double.
2019 saw Wirecard come under investigations, the funniest being a finding by FT when it visited a supposed site of the banks Philippines partners to find a bemused retired seaman and his family in the building that was supposed the site of an international payments business.
Softbank also injected 900m Euros into Wirecard in 2019, an apparent vote of confidence from the Japanese conglomerate on the same day that FT published further details of Wirecard's outsourced payments.
Read more; Vaxart an unpopular Biotech company shares surge over 3,000% YTD
June 2020, German Investigators came calling, and the Philippine banks BPI and BDO inform the auditors EY that documents supposedly detailing 1.9bn Euros in balances is "spurious". What followed next was a warning from Wirecard that the 1.9bn of cash on its balance sheet may not have existed.
Markus Braun, the man who built Wirecard to "conquer the world" was arrested on suspicion of false accounting and market manipulation. What followed, was Wirecard filing for insolvency.
In a press release on its Investor relations page signed by Iris Stöckl, VP Corp.Com./IR, it read "The Management Board has come to the conclusion that a positive going concern forecast cannot be made in the short time available. Thus, the company's ability to continue as a going concern is not assured."
The story of Wirecard is unending, and the web of lies, deceit, fraud, market manipulations… The effect of all these on the share price of the company has been devastating.
Read further; N-Power Portal will be opened by 11:45pm on Friday for Fresh Application
When critics raised red flags about the company's seemingly miraculous success, questioning murky accounts and income that could not be traced, Mr. Braun, a methodical executive from Austria who was the company's biggest shareholder, hit back repeatedly, and the stock price skyrocketed.
Now, as the saying goes "the chickens have come home to roost" for the stock.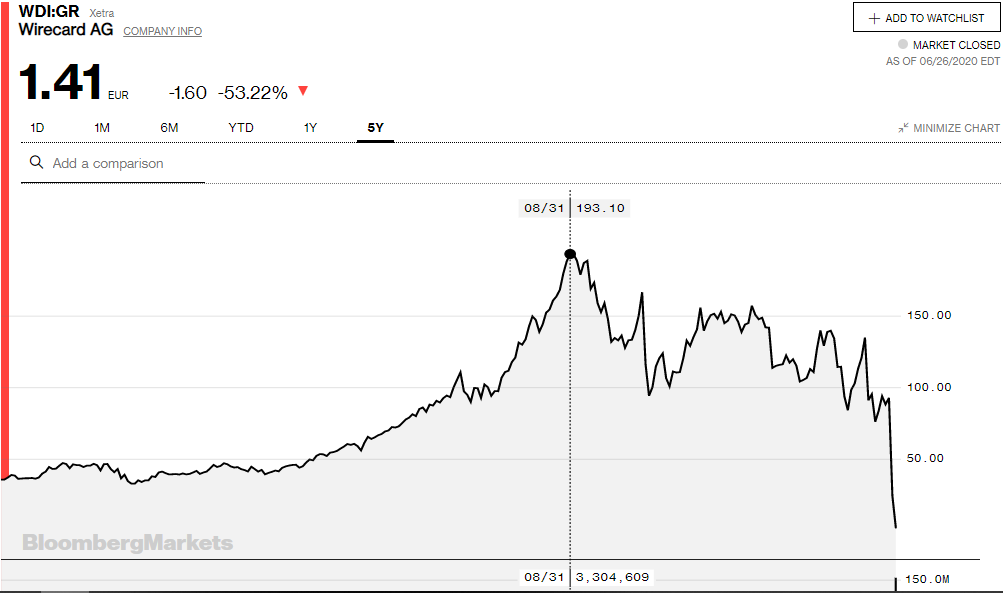 Fig 1: 5 Year share price movement (Source: https://www.bloomberg.com/quote/WDI:GR)
On Friday, the stock  opened trading at 2.92 Euros, and closed at 1.41 Euro, losing 53.22% on the day.
An Investor that had bought the stock at its peak last year, would have seen their investment depreciate in value by 99.27%.
Written by;
Nnamdi M.