It has always been a battle for supremacy between Zenith Bank and Guaranty Trust Holding Company Plc (NGX: GTCO) in multiple fronts; price per share, dividend payout, Profit Margin, operational efficiency etc. On the Share price front, Zenith Bank Plc (NGX: ZENITHBANK) has finally closed the gap and overtaken Guaranty Trust Bank.
At the end of trading on the floor of the Nigerian Exchange on Thursday, 13th January 2022, the share price of ZENITHBANK stood at N25.50 while that of Guaranty Trust stood at N25.45. This is the first time that this has happened since September 22nd, 2011.
ZENITHBANK with its 31.40bn outstanding shares has a market capitalization of N800.61bn, making it the 7th most capitalized company on The Exchange. GTCO on the other hand is the 8th most capitalized company on The Exchange with a market cap. of N749.02bn from 29.43bn outstanding shares.
In November 2021, Guaranty Trust Bank Plc began restructuring into a Financial Holding Company, and subsequently Guaranty Trust Bank Plc was delisted and replaced by GTCO.
Since the restructuring, the share price of GTCO has been on a steady decline, dropping to as low as N23.90 in December 2021, from the N28.00 per share it traded in the run-up to full transition to a HoldCo. Investors in GTCO has endured over N250 billion lose of wealth since the transition that was supposed to hold so much promise.
At its peak in January 2019, GTB was trading at N54 per share or a market capitalization of N1.5 trillion. In the same period, Zenith Bank was trading at N33 per share valued at just over N1 trillion.
Analysts at Investogist has always believed that both banks are similar in their performances and that the wide differences in their pricing was a market distortion. If any of the two should be ahead in Price it should be ZENTIHBANK, not GTCO.
In their last financial statements for the period ended 30th September 2021, ZENITHBANK reported a Basic Earnings Per Share of N5.11 while GTCO reported an EPS of N4.54. Both companies paid an interim dividend of N0.30 per ordinary shares to Investors.
At current prices, both companies are still very well priced.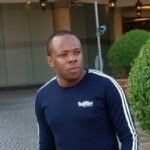 Nnamdi Maduakor is a Writer, Investor and Entrepreneur