All over the world, people of different ages use social media platforms. The aim of use can vary from connecting with people to business or just killing off boredom.
On average, internet users spent 2 hours and 23 minutes on average per day on social media globally in 2019. This is according to a Survey by the Global Web Index.
The survey found that the people in emerging economies spent most time on social media per day compared to those in developed economies.
Philippine ranked number one, as the people in the country spent more than 4 hours a day on social networks.
The country is followed by Nigeria with 3 hours thirty six minutes spent per day on social networks. While Indians and Chinese clocked more than 2 hours each per day.
According to the report, USA, Germany and UK spent less than 2 hours per day on social media. Whereas Japan spent less than an hour on a typical day.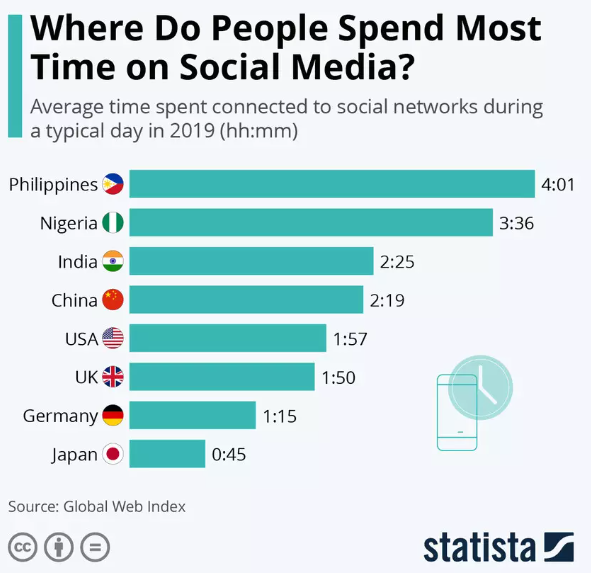 Where do these people spend their time?
Facebook is the most popular social network with almost 2.5 billion monthly active users and over 1.7 billion daily active users worldwide as of April 2020 according to Statista.
It is followed by YouTube and WhatsApp at 2 billion monthly users each.
India has the biggest Facebook audience with over 280 million users. The United States, Indonesia, and Brazil with 190 million, 130 million, and 120 million Facebook users respectively.
People in the United States spend most time on Instagram. The country has over 120 million Instagram users. It is followed by India and Brazil with 88 million and 82 million users respectively.
According to Statista, Cristiano Ronaldo is the most followed person on Instagram. He has over 226 million followers.
Most popular social networks worldwide as of April 2020, ranked by number of active users (in millions)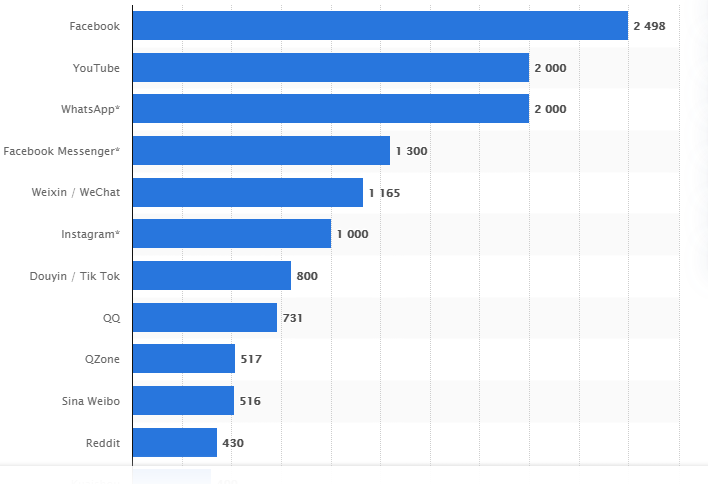 Written by;
Ifunanya Ikueze