United Bank for Africa Plc (NGX: UBA) has reported a profit of N70.33 billion for the half year period ended 30 June, 2022.
On Thursday, the bank released the financial statements for the period to the Nigerian Exchange Limited and the investing public.
Following the release of the report, UBA announced a proposed interim dividend of 20kobo, which is will be paid to Shareholders on Thursday, September 22, 2022.
Also read; Flour Mills of Nigeria Plc should raise N200bn additional capital – Shareholders
A review of the financial statements showed that UBA grew its interest income by 15.60% Year-on-Year to N257.36 billion, a growth which was transferred to a 16.10% YoY growth in Profit for the period.
Analysis of the Financial Statements
Income Statement:
Interest Income: The bank reported an interest income of 257.36 billion, a 15.60% increase on the N222.63 billion it reported in H1 2021. A bulk of the interest income came from interest on loans to corporates (N91.66bn from term loans, N24.02bn from overdrafts and N3.30bn from others) and investment securities (N57.69bn from Treasury bills, N47.30bn from bonds and N510mn from promissory loans).
Interest Expenses: It incurred N79.89bn as interest expenses, against N74.56bn incurred in H1 2021. This represents 7.16% increase in the expenses. Most of this was interest paid on deposits from customers, which totaled N54.96bn.
Fee and commission income: UBA recorded an impressive 30.11% growth in its income from fee and commission. It brought in N96.39bn in H1 2022, against N74.08bn it brought in H1 2021. Electronic banking income accounted for N36.32bn (H1 2021: N15.49bn) of this income, while Trade transactions income accounted for N17.58bn (H1 2021: N9.90bn) and Credit-related fees and commissions brought in N15.49bn (H1 2021: N7.40bn).
Employee benefit expenses: N52.29bn was spent on employees, a 22.70% increase on the N42.62bn spent in the preceding period. Out of this, N48.74bn (H1 2021: N40.7bn) was spent on wages and salaries. As at the end of the period in review, UBA had 10,281 in its employment; 6 were group executive directors, 123 were in management staff, and 10,152 were non-management staff.
Profit Before Tax: N85.74 billion, compared to a loss of N76.18 billion in H1 2021.
Profit After Tax: N70.33 billion, compared to N60.58 billion loss in H1 2021.
Earnings Per Share: 198 kobo (169 in H1 2021).
Balance Sheet:
Total Assets: N8.99 trillion, compared to N8.54 trillion as at 31st December 2021 (8.98% Increase). Of these assets, over N3.6tn is investment in securities, N2.75tn is loans and advances to customers, while N1.98tn is cash and bank balances.
Total Liabilities: N8.21 trillion, compared to N7.73 trillion as at 31st December 2021 (6.13% Increase). Deposits from customers accounted for most of the liabilities with N6.72 trillion.
Shareholders' Fund: stood at N757.21 billion, a 2.44% decrease from N776.17 billion as at 31st December 2021.
Retained earnings: N367.51bn, against N335.84bn as at 31st Dec. 2021, 9.43% up.
Cashflow:
Operating activities: N478.14 billion was generated from operating activities, against N546.14 billion generated in H1 2021.
Investing activities: N208.65 billion was used in investing activities, against N326.89 billion used for the same activity in H1 2021. UBA spent N4.87 trillion in purchasing investment securities (N195.67bn in H1 2021)
Financing activities: N92.66 billion was used in financing activities, against N181.86 Billion used in H1 2021.
Cash and cash equivalents at the end of the period was N960.89 billion.
About the Company
United Bank for Africa Plc is a Nigerian registered company incorporated on 23 February 1961 to take over the business of British and French Bank Limited (BFB).
UBA listed its shares on the Nigerian Stock Exchange (NSE) in 1970 and became the first Nigerian bank to subsequently undertake an Initial Public Offering (IPO).
The Bank's registered address is at 57 Marina, Lagos, Nigeria.
At the end of trading on the floor of the Nigerian Exchange Limited on Friday, the share price of UBA stood at N7.55, having gained 3.42% on the day.
It has 34.19 billion outstanding ordinary shares and a market capitalization of N258.20 billion.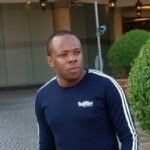 Nnamdi Maduakor is a Writer, Investor and Entrepreneur