Dr. Awele V. Elumelu, the wife of the Board Chairman of Transnational Corporation (NGX: TRANSCORP) has acquired over 2 billion shares of Transcorp.
In a notification of share dealing by insiders signed by Funmi Olofintuyi, the Company Secretary and published on the Nigerian Exchange, Transcorp stated that Dr. Awele Elumelu acquired 2,063,484,991 shares of the company at a price of N3.12 per share.
Also read; YouTuber admits to crashing plane for views, faces 20 years in jail
The transaction worth N6.43bn was done on 2nd and 5th of May, 2023 in Nigeria.
Dr. Awele V. Elumelu, born on June 23, 1970, is a medical doctor and also an entreprenuer.
Dr. Awele V. Elumelu oversees the healthcare investments in the Heirs Holdings' portfolio. She holds a bachelor of medicine, bachelor of surgery degree from the University of Benin.
Her experience as a medical doctor includes medicine, surgery, paediatrics, obstetrics, gynaecology and emergency medicine. In Nigeria, Dr Elumelu has worked with the Lagos University Teaching Hospital and in the UK, with Grantham and District Hospital, Grantham.
In January 2018, Dr. Elumelu was appointed as the Champion for immunisation in Africa by the Global Alliance for Vaccines and Immunisation (GAVI).
DNB Stories Africa reported that according to information it sighted, Tony and Dr. Awele got married in 1993.
Transcorp has been in the news since April, following the acquisition of 2.245 billion shares, representing 5.52 percent of the company by Nigerian billionaire Femi Otedola.
Tony Elumelu's HH Capital Limited would go on to acquire an additional 9.69 billion shares of Transcorp, bringing its total shareholding in the company to 9.9 billion.
Femi Otedola on 9th May issued a statement wherein he said that he offered to acquire Transcorp Plc for N250 billion and take the company's market capitalisation to N2 trillion but his bid was rejected.
Tony Elumelu holds 10.55 billion shares of Transcorp directly and indirectly. He holds 273.1mn shares directly, 274mn shares indirectly through Heirs Holding Limited and 9.99 billion indirectly through HH Capital Limited.
Transcorp has 40.64 billion outstanding shares.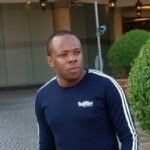 Nnamdi Maduakor is a Writer, Investor and Entrepreneur