Tony Elumelu's HH Capital Limited has acquired an additional 9,697,189,984 shares of Transnational Corporation Plc (NGX: TRANSCORP), bringing its total shareholding in the company to 9,991,173,177 units.
With this acquisition, HH Capital Limited is now the biggest single shareholder of the company, holding 25.58% of the Transcorp's 40.64 billion outstanding shares.
Also read; List of Dividends announced in 2023, qualification and payment dates
Prior to the acquisition, Tony Elumelu, who chairs Transcorp, held 273.1 million shares directly in the company, 274 million indirectly through Heirs Holdings Limited and 294 million shares indirectly through HH Capital Limited.
TRANSCORP informed the Nigerian Exchange Limited and the investing public of the acquisition in  compliance with Chapter 17, Rule 17.13 of the NGX Issuers Rules, via an announcement published on Thursday.
The company welcomed the continued expression of confidence in its leadership and management by the investing public, as we continue our unwavering commitment to superior stakeholders'
returns, anchored in our ideology of Africapitalism.
It reassured its commitment to remaining resolute in executing our Group's strategy of making strategic investments in key sectors within the Nigerian economy, transforming Africa, and contributing positively towards building prosperity for all.
In the preceding week, Transcorp formally informed The Exchange and the investing public of the acquisition of 2,245,639,251 shares of TRANSCORP by Femi Otedola, representing 5.52% stake in the company.
Media reports states that over the last two weeks, Otedola has spent over N6billion to acquire 2.6bn shares, representing 6.3% of the total shares of the company.
Daily trust reported that the Managing Director of ARM Securities Limited, Mr Rotimi Olubi noted that Otedola is strengthening his stake in the power sector, which is expected to get more attention from the administration of Tinubu.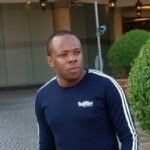 Nnamdi Maduakor is a Writer, Investor and Entrepreneur