A new coin is coming from the brand new Tokenplace crypto exchange platform; a platform that is attempting to take institutional crypto trading tools to the public with a multi-exchange interface; so it says.
According information on its website, Tokenplace claims that it will give its users a single window for depositing, trading, exchanging and withdrawing both crypto and fiat across 8 exchanges.
An article on cointelegraph.com chronicles how cryptocurrency trader with deep business backgrounds came together to solve the inefficiencies of the current multi-exchange systems.
The inefficiencies as they see it, stems from different places offering different trading pairs, and with prices being inconsistent across the board.
It creates a situation where you cannot do all your business in a single location, requiring simultaneous use of several platforms to make some headway. This being a far cry from the forex trade, in which a single provider can get you all you need at the same basic prices and trends you can find in any other.
To solve this problem, Tokenplace  was launched; a different king of trading place, in which users can trade simultaneously across all exchanges in a seamless way. The system's engine is called Token Trade, and it includes a set of liquidity pools on all the leading exchanges. The TOK token is the unit of exchange among the different accounts.
This new token is going online today on TrustSwap, and its issuers have the full intent to disrupt crypto trading worldwide.
Among the new services available in the beta version of the platform is Tokenplace Elite, which is a subscription-based service. The monthly fee is so economical that the savings you get from a single trade could be enough to pay for it. TP Elite can connect to 30+ leading exchanges and offers order-splitting algorithms. But you can use the free version as well, which includes all your basic order types.
In its whitepaper, Tokenplace claim to have the following 6 key advantages over traditional cryptocurrency exchanges:
A single, simple window for depositing, exchanging, trading, and withdrawing funds
The quickest possible one-time registration and onboarding process
Aggregated liquidity from the entire crypto market, enabling traders to easily buy and sell at the best available prices
One Tokenplace account and password for access to the whole market instead of needing different exchange accounts for different trading pairs
An easy-to-understand UI on both mobile and desktop that will lower the barrier to entry for new traders
Advanced algorithms for multi-exchange order splitting
The Tokenplace coin, TOK, will be based roughly along the model successfully established by BNB. However, we will push beyond the basic utility/exchange coin structure, using Tokenplace as a platform to innovate new venture funding models in the crypto space.
The TOK Coin digital asset is meant to reflect the value of the Tokenplace ecosystem. As the number of traders and investors using the Tokenplace terminal increases along with their cumulative trade volume, the usefulness of TOK also increases.
In addition, TOK Coin will give holders a few unique benefits:
Increased rewards from participating in our affiliate program
Discounts to traders who hold large amounts of TOK, similarly to what Binance does with BNB
Lowered fees at Tokenplace's partner exchanges
Perhaps most importantly, a portion of the total supply of TOK Coin will be kept out of circulation in a reserve. The purpose of this reserve is to provide the necessary liquidity for Tokenplace to be able to aggregate the best cryptocurrency prices from leading exchanges.
Further information on Tokenplace can be found at below addresses;
Website: https://tokenplace.com/
White paper: https://tokenplace.com/white-paper/
Facebook: https://www.facebook.com/tokenplace/
Telegram: https://t.me/tokenplace
Twitter: https://twitter.com/TokenplaceTOK
LinkedIn: https://www.linkedin.com/company/tokenplace/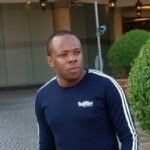 Nnamdi Maduakor is a Writer, Investor and Entrepreneur