The Russian military and allied forces of the People's Republics of Donetsk and Lugansk were ordered to leave the city of Izyum on Saturday, several reporters deployed in the conflict zone have said. The retreat from Izyum and Kupyansk took place amid a Ukrainian offensive, Russian military correspondents say.
Izum, which is located on the Seversky-Donets River, some 120 kilometers south-east of regional capital Kharkov, was captured by Russia in April after heavy fighting.
Also read; Peter Obi is planning to fake his assassination attempt, Keyamo alleges
Rossiya 1 channel correspondent Ivan Poddubny described the withdrawal as a necessary measure to prevent the Russian forces from being encircled.
Reports have emerged of Ukrainian troops entering Kupyansk, which has served as a logistical hub for the Russian forces, and fighting breaking out on the outskirts of Krasny Liman.
The retreat was later confirmed by the Donetsk Republic's deputy information minister Daniil Bezsonov, who said: "Yes, we left Izyum and some other settlements in the Kharkov direction."
In late August 2022, Ukraine launched a counteroffensive against Russian forces in Kharkov Region.
Ukraine's counteroffensive in the northeast came after its much-vaunted counteroffensive in the south around Kherson saw Russia redeploy troops away from the region to defend areas they occupied in the south.
So far this month, Ukraine's forces have reclaimed 3,000 square kilometers (around 1,158 square miles) of Russian-occupied territory, according to the commander-in-chief of Ukraine's armed forces, Gen. Valeriy Zaluzhnyi.
"The Ukrainian success resulted from skillful campaign design and execution that included efforts to maximize the impact of Western weapons systems such as HIMARS," the Institute for the Study of War said in its latest assessment of the war in Ukraine, referring to High Mobility Artillery Rocket Systems.
Ukrainian President Volodymyr Zelenskyy called on world leaders to recognize Russia as a terrorist state.
"Yesterday and today, the Russian army struck the Ukrainian energy infrastructure. Hundreds of thousands of Ukrainians found themselves in the dark without electricity. Houses, hospitals, schools, communal infrastructure, Russian missiles hit precisely those objects that have absolutely nothing to do with the infrastructure of the Armed Forces of our country," Zelenskyy said in an evening address on the Telegram messaging app, according to an NBC News translation.
"To protect against this, we must further strengthen our cooperation. Together we can overcome Russian terror. Russia must be recognized as a terrorist state," Zelenskyy said.
Zelenskyy also called for an additional round of European Union sanctions and an increase in security assistance packages.
The large-scale Ukrainian offensive with the use of Western-supplied weapons started in Kharkov Region.
US Defense Secretary Lloyd Austin said on Friday that Ukraine had seen "some success" in Kharkov region, calling the developments "very, very encouraging."
While acknowledging some setbacks, Russian officials on the ground have insisted that Kiev's troops have been suffering "colossal" casualties during their advance.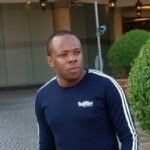 Nnamdi Maduakor is a Writer, Investor and Entrepreneur