Local authorities and media has reported multiple missile strikes across Ukrainian cities on Monday. The missile strikes are coming two days after a bomb damaged the Crimean Bridge; a strategic link between Crimea and Russian mainland.
The Commander-in-chief of the Ukrainian armed forces, Valery Zaluzhny's office reported that they had detected atleast 75 missiles, out of which it claimed intercepting 41.
Also read; More than 70 feared dead as boat capsizes in Anambra
In a video address, President Zelensky also confirmed the attacks, saying that numerous parts of Ukraine had come under fire. He went further to claim that Russia was targeting Ukraine's energy infrastructure.
They want panic and Chaos, he said
In Lviv, Kharkov, Dnepr, and Odessa, local officials also reported missile attacks in their city.
In Kiev, the strikes is reported to have hit near the headquarters of the Security Service of Ukraine (SBU), which is located in the government area of the capital.
In Lviv, on the Western province, the head of the region, Maksim Kozitsky reported that the missile strikes attacked elements of the Western province's energy infrastructure.
Russian President Vladimir Putin confirmed that Russian troops carried out "massive strikes with long-range precision weapons on Ukrainian objects of energy, and military control and communications." The response came two days after an explosion damaged the strategic Crimean Bridge, for which officials in Kiev claimed responsibility.
Putin warned that any further Ukrainian "terrorist" assaults on Russian soil will be met with a significant military response. He was speaking after the wave of missiles that struck Ukraine on Monday morning.
"If there are further attempts to conduct terrorist attacks on our soil, Russia will respond firmly and on a scale corresponding to the threats created against Russia," Putin added.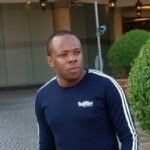 Nnamdi Maduakor is a Writer, Investor and Entrepreneur