PZ Cussons Nigeria Plc (NSE ticker – PZ), has informed the Nigerian Stock Exchange (NSE) and the Investing public, that the delay in the filling of the company's audited financial statements, for the year ended 31 May 2020, is due to the unforeseen circumstances as a result Covid-19 pandemic.
This is according to the notification signed by the company secretary/legal adviser, Jacqueline Ezeokwelume. PZ said that the audit of its annual result, which usually starts in March/April, was hampered by the complete lockdown imposed to contain the spread of Covid-19 at the time.
PZ financial performance has been on a downward spiral. The company posted a loss of N3.517 billion, a drop of 536% from N807.143 million profit after tax reported in Q3 for the period ended 28 February 2020, although revenue decreased by just 0.6% to N54.743 billion from N55.070.
Have you read?
PZ reported a basic EPS of minus 89kobo in Q3. The huge slump in profit can be attributed to the company's inability to control its costs. The cost of sales rose by 9.1% to N46.285 billion from N42.432 billion. Similarly, the administrative expenses increased by over N1 billion among others.
PZ said it will soon conclude the audit of its accounts and would file financial statements to the Nigerian Stock Exchange by 29 September 2020. The company noted that it is not feasible to recover the amount of time lost in the audit process despite having made a "significant progress" with the audit.
PZ was incorporated on 12 April 1948, and it is into the business of manufacture and distribution of personal care, home care and electricals. It is listed on the main board of the NSE, under the consumer goods sector. At the close of trading on Friday, the share price stood at N4.25 per share. The 52 week high and low prices are N7.10 and N3.75 per share.
YTD the share price is down 24.78%, while in two years and five years it has lost 69.75% and 87.14% of its value respectively. The six year price movement is shown below;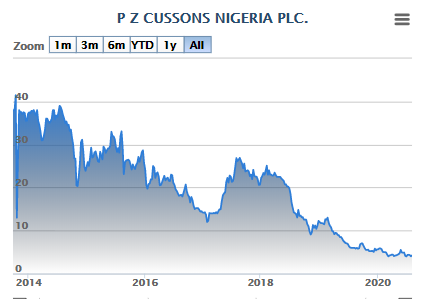 Source; Mytradebook
Written by;
Ifunanya Ikueze