The Premier League season will kick off on the weekend of August 11-13 and conclude nine months later on May 19 2024.
Manchester City will begin their title defence on Friday, 11th August away at newly-promoted Burnley, a team managed by City legend, Vincent Kompany.
For the full fixture: Click here
The opening weekend will see Mauricio Pochettino's Chelsea take on Liverpool., while Manchester United host Wolves.
Also read;
Arsenal will welcome Nottingham Forest, a team that gave them the final blow that handed Manchester City the 2022/2023 title.
Newcastle United will host Aston Villa, Tottenham travel to Brentford, while Sheffield United host Crystal Palace.
Luton town travel to Brighton for their first-ever Premier League game.
West Ham travel to Bournemouth and Everton host Fulham.
A mid-season player break will take place between January 14-20 and, in order to address the congested schedule across Christmas and New Year, no two rounds in this period will take place within 48 hours of each other.
The Premier League season concludes on May 19, with Manchester City vs West Ham and Arsenal vs Everton among the final-day fixtures.
Meanwhile, the Carabao Cup final will take place on Sunday February 25, the Europa League final will be held in Dublin on May 22 and the Champions League final will be played at Wembley Stadium on June 1.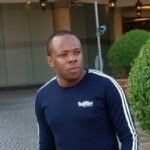 Nnamdi Maduakor is a Writer, Investor and Entrepreneur