The Nigerian Stock Exchange equities market began the week on a negative footing, losing by 0.23% to close trading on Monday at 41.082 points, even as Insurance stocks continued to soar. The market capitalization witnessed an erosion of N39.535 billion to settle at N21.490 trillion.
Insurance Stocks continued their unrelenting advancement, to the extent that even the long forgotten Insurance Stocks like African Alliance Insurance Plc (NSE Ticker: AFRINSURE) and Universal Insurance Company Plc (UNIVINSURE) enjoyed maximum gains of 10.00%.
Our highflyers continued to fly even higher, except ARDOVA, which ran out of steam on Thursday, 14th 2020, and have not moved since then. We will be removing the stock from our highflyer list, and replace it with Transnational Corporation of Nigeria Plc (NSE Ticker: TRANSCORP).
TRANSCORP shares drew the biggest buy pressure, as Investors' flocked to acquire the stock following the news over the weekend that Heirs Holdings in partnership with TRANSCORP will be significantly expanding its oil and gas portfolio. TRANSCORP shares gained 9.18% on Monday, adding N0.09 to close at N1.07.
JAPAULGOLD finally retreated by the end of the day's trading, after an incredible run that saw it's share price surge from N0.25 to over N1.42. The stock lost 6.58% to close at N1.42.
MBENEFIT continued rising, gaining 9.52% to close at N0.46, it has now 55.56% in the month, and 110.00% over the past 3 months.
REGALINS and ROYALEX also continued their ascent, gaining 9.09% and 8.82% respectively, to close at N0.36 and N0.37.
13 Insurance stocks recorded maximum gains on the day, buttressing the surge in prices Insurance Stocks are experiencing.
CHAMPION share price did not change, as no-one was willing the sell the stock that has been in high demand since the news of a potential take-over by Heineken.
Activity level
738.524 million units of shares valued at N4.172 billion was exchanged in 7,396 deals. The activity level was mixed, as the volume of shares traded increased by 10.79% while the value of shares traded decreased by 34.76%.
JAPAULGOLD shares was the most traded by volume with 92.361 million units, followed by UNIVINSURE with 51.788 million units and TRANSCORP with 43.145 million units.
ZENITHBANK shares were the most traded by value, with shares valued at N820.122 million exchanging hands in 508 deals.
GUARANTY and ACCESS were the second and third most traded shares by value with shares worth N422.024 million and N302.967 million respectively traded in a combined total of 670 deals.
Performance of Indices
3 of the 5 indices under our watch closed positively, while 2 declined;
Insurance Index advanced by 5.98% as BUY pressures persisted across board.
Oil & Gas Index advanced marginally by 0.02% following an uptick in OANDO (+0.3%)
Banking Index also advanced marginally by +0.01% as GUARANTY (+1.8%) and ETI (+0.08%) countered loses in other banking stocks
Industrial Goods Index declined by 0.43% weighed down by loses in DANGCEM (-1.0%)
Consumer Goods Index declined by 0.62% following loses in FLOURMILL (-5.5%) and INTBREW (-2.2%)
Investor Sentiment
Investor Sentiment as measured by market breadth weakened to 1.7x from the 3.4x recorded previously as 35 stocks advanced against 21 decliners.
Top 5 gainers by percentage are;
AFRINSURE gained 10.00% to close at N0.22
AIICO gained 10.00% to close at N1.32
CADBURY gained 10.00% to close at N10.45
RTBRISCOE gained 10.00% to close at N0.22
TRANSEXPR gained 10.00% to close at N0.88
Top 5 losers by percentage are;
JAPAULGOLD lost 6.58% to close at N1.42
FLOURMILL lost 5.49% to close at N31.00
WEMABANK lost 5.33% to close at N0.71
NEIMETH lost 4.78% to close at N2.00
GLAXOSMITH lost 4.29% to close at N6.70
Outlook
We expect the market performance to swing in the positive direction in the course of the week.
By; Nnamdi M.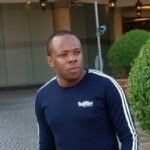 Nnamdi Maduakor is a Writer, Investor and Entrepreneur