In our third of the series, we tried to suggest solutions to the missing links by identifying opportunities therein. We also questioned the worthwhileness of an agro investment. This week, and, the last of the series, we want to look beyond domestic consumption and see how our agricultural produce can penetrate international markets, compete favourably and gain some dominance globally.
The Executive Summary of the 'Agricultural Transformation Agenda: We Will Grow Nigeria's Agricultural Sector' captures the following helpful statistics: "As at 1961, Nigeria was the leading exporter of groundnut with a world's share of 42%. The country also had 27% of the world's palm oil export, 18% of cocoa and 1.4% of cotton as the major West African cotton exporter.
This glory however declined over years hence Nigeria's dominance in the export of groundnut was eclipsed by China, United States of America (USA) and Argentina as at 2008. Indonesia and Malaysia took over in palm oil, Cote d'voire and Ghana also became the leading exporters of cocoa while Mali and Bukina Faso led cotton exports.
The competitors maintained their dominance due to strong marketing organizations that linked the farmers to markets and provided support in the form of improved planting material, fertilizer, credit and rural infrastructure" (Given by the Federal Ministry of Agriculture and Rural Development on 9th September, 2011 in Abuja).
Read also; Q1 2020 Capital Importation Dominated by Portfolio Investment as the Real Economy Watches
There is no gain saying that the agricultural sector can increase the revenue from non-oil exports by tremendous margins. This is because "…it is estimated that Nigeria has lost a US$10billion annual export opportunity from groundnut, palm oil, cocoa, cotton alone due to continuous declines and stagnations in their exports." (Cf. ATA, Sept., 2011).
Nigeria has the potentials to increase her agricultural produce but, unfortunately, these are either consumed domestically or allowed to waste. Currently, Nigeria exports such crops like sesame seed, soybeans, cocoa, frozen shrimps, cashew and the rest. But we have the potentials to export oil palm, plantain flour, rubber, cassava, cotton, starch, etc. Let us look at the export potentials of sesame seed for Nigeria as captured by the Nigerian Export Promotion Council (NEPC) through the International Trade Centre's (ITC) Export Potential Map.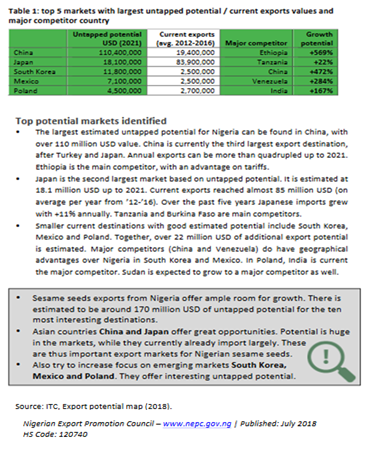 The big question is; how does government aid exporters to maximize this gaping potential? What will boost investor confidence to invest in this large market?
One of the major setbacks in the exportation of agro produce is standardization. We do not produce most times in accord with established international standards. Foreign buyers also do not totally trust our inspection agencies believing they might be compromised in their reports due to corruption. Nigeria is a large producer of pineapple, for instance, but is not classified as one globally because we consume every single pineapple we produce here (be it sweet cayenne, sugar loaf or MD2).
Read more; Prof. Maurice Iwu Proposed Covid-19 Treatment to Start Clinical Trial in Nigeria
We even import from Benin Republic. The planting spacing standard for international markets for pineapple is 30 x 40 x 50cm while that of domestic consumption is 50 x 50 x 100cm. This is because domestic demand needs the big fruits while the international market needs it small. The international size cannot be more than 1.2kg per fruit because the processing machines are already calibrated to that size. It could be less but not more than 1.2kg. Now, how many farmers are aware of this and can abide by this specification? These are issues!
Another issue is exporting these commodities in their raw states without adding extra value. Most of these farm produce have extended value chains than we currently know. We are always in a hurry to export and so lose money.
One farmer once said that he could be making as much as N20million by processing cassava further down the value chain but currently makes N9million from selling only the tubers after investing approximately N2million. That is how bad it is.
Take oil palm value chain for another instance, over 70% of investors here gain mostly from the palm oil forgetting about the kernel cake, kernel oil, pulp cake, pulp oil, husk, shell, etc. thereby gaining only in Naira while leaving out the potential foreign currencies. Because of this, Nigeria's oil palm yield has remained largely same since 1960 with our production capacity remaining at 6.7 million metric tonnes in 1961 and 7.8million metric tonnes in 2018. Sadly, Nigeria imported palm oil in 2019 (Cf. Kelikume, Webinar 2020).
Further read; Building a Business based on Local content-Lessons for a would-be Entrepreneur
With Nigeria as the number one producer of cassava world over, can we not key into the new normal? Ethanol constitutes about 70% of raw materials for hand sanitizer production. One of the new normal is that hand sanitization would not depart both public and personal hygiene in a hurry post COVID-19 pandemic. If Nigeria could account for about 20% or more of global hand sanitizer production or export of ethanol, this economy would leap frog the present quagmire (Cf. Olufemi Adekunle, Cassava Farmer 2020).
Look at strawberry. Nigeria and Cote d'Ivoire are about the only West African countries producing strawberry but they are not recognized globally because they have not started exporting. We produce only for domestic consumption thereby leaving Egypt, Kenya, and South Africa as recognized strawberry producers in Africa. It is same with grape.
With China as the largest market for both grapes and strawberries, it has been estimated that they can buy off whatever Nigerian farmers produce. But how can we access the international market without first satisfying the domestic market?
The potentials are huge but accessibility is low; production is low; investment is low; government participation is low; and so on. We have to bear in mind that government gives varied percentage of incentives to exporters in order to promote participation in exporting Nigerian commodities.
The programme, Export Expansion Grant (EEG), takes care of this, as we explained in one of our previous submission on commodities exportation. The NEPC is in charge of this and are very willing to encourage exporters.
Read also; Nigeria's Real GDP Grew by 1.87% in Q1 2020
Recently, the government has ordered zero tariff for importation of agricultural equipment by waving VAT, excise and customs duties. The government should do more. It should insist on more local content among manufacturers in conjunction with the MAN, SON and NAFDAC especially among foreign investors.
Further investment opportunities exist in the agro/agribusiness sector. Over and against investing within the upstream and midstream, the downstream can take in huge investments. Most of our raw perishables like fruits and vegetables are freighted to foreign destinations only through air cargo. But heavy investors can invest in refrigerated containers to have these exported in large quantities via ocean freight. Air cargo can only take handfuls. So, an investment in ocean logistics purely for perishables will be profitable.
Marketing is another bane of exporting. Getting foreign buyers is not an easy task as most buyers are afraid of losing money as much as Nigerian suppliers are afraid, equally, of losing money to scammers. International marketing comes in handy. Buyers need to see structure, they need to test standards, they need to be sure visibility is not fake.
For instance, when one posts pictures of products that are not self-generated or posting pictures already existing in different websites. Again, when one claims to be a farmer but always posts pictures with corporate dressing in a corporate setting without indication towards the farms. It is contradictory. Little things betray good intentions.
Read more; Nigeria Headed for a Deeper Recession, to Shrink by 8.9%: Finance Minister
Another investing option is on partnerships with foreign investors to come in with funds. These may be in forms of strategic alliances, FDIs, etc. An instance is when a company in China that uses strawberry or grape as raw material comes in here and invests in a farmer in order to increase output thereby assuring his own input. But this can only happen if such Chinese company has tested quality consistency on the part of the farmer over quite some good period of time.
Finally, concluding our series on the new normal, it is imperative to note that these are in no way exhaustive of the issues they portended to treat. They are merely personal suggestions, researches and opinions of the writer which can be expanded.
The government can develop a blueprint from this and chart a new course for the agricultural sector. Agro-allied firms can key into some of these issues treated here. Individual farmers can pick one or two insights from here. Unemployed Nigerian youths can tap into these opportunities, remain patient but focused as they graduate through the agribusiness learning curves and someday, the narrative would be encouragements for generations to come.
Nigeria has the potentials to compete in agriculture/agribusiness both domestically and internationally. The ball is in our court.
Written by,
Edokobi Azuka Stephen
+234 803 553 5948