For NPF Microfinance Bank Plc (NSE: NPFMCRFBK), it was business as usual in the second quarter of the year, as the company reported no significant change in gross earnings and profits for the year. This is according to the 2nd quarter report for the period ending 30 June, 2020 released to the Nigerian Stock Exchange and the investing public.
For the half year period ended 30 June, 2020, NPFMCRFBK reported a gross earnings o N2.073 billion, 1.31% less than the N2.101 billion reported in H1 2019. The gross earnings comprises of;
Interest income calculated using effective interest method, which was N1.831 billion (H1 2019: N1.497 billion). The interest income came from loans and advances (N1.783 billion), Treasury bills (N36.989 million) and call accounts (N10.902 million).
Fees and commission income, which stood at N224.889 million (H1 2019: N454.248 million). The fees and commission income came from credit-related fees and commission (N177.841 million) and deposit-related fees and commission income (N47.048 million). A further disaggregation of the fees and commission income shows that "Account administration and maintenance fee" contributed N16.588 million or 7.37% of the fees and commission income.
Other income, which stood at N17.223 million. A major component of the other income is service fees and charges, which include fees on customer requests such as issuance of letter of indebtedness. charges on issuance of drafts, seals, stamps, reference letters and signature confirmation letters.
There was a 17.22% uptick in the personnel expenses in the period in review, as the microfinance bank spent N781.428 million on 451 employees including 3 executive directors, 63 management staff and 385 non-management staff, against the N666.656 million spent on 374 employees including 3 executive directors, 51 management staff and 320 non-management staff.
There was also a 5.79% in total operating expenses, a 0.53% decline in both profit before tax and profit after tax. The profit for the year reported by the bank for H1 2020 was N378.012 million, only N2.032 million lower than that reported in H1 2019. The net profit margin remained approximately the same at 18.00%.
Have you read?
A review of the bank's balance sheet show a 12.27% increment in total assets, which was financed mostly by the N3.531 billion deposit for shares from its two major shareholders; NPF Welfare Insurance Scheme and Nigeria Police Co-operative Society Limited in advance for additional shares which the bank will issue in 2020.
This deposit for shares recorded on the balance sheet as other liabilities, accounted for the 17.30% increase in the total liability of the bank. The total equity increased marginally by 2.00% to N5.253 billion, from N5.150 billion recorded on 31st December, 20219.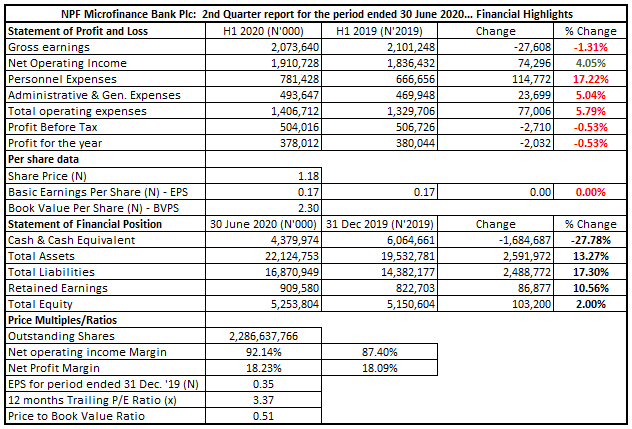 A review of the bank's statement of cash flows showed that the cash and cash equivalents as at 30 June, 2020 was N4.379 billion, 27.78% lower than the N6.064 billion reported on 31st December.
NPF Microfinance Bank Plc ("the Bank") is a public limited liability company domiciled in Nigeria. The Bank's registered office is at Aliyu Atta House, I Ikoyi Road, Obalende, Lagos.
The Bank is engaged in the provision of banking services to members of the Police community, to poor and low income households and microenterprises of the public at large. Such services include retail banking, granting of loans, advances and allied services.
The Bank currently operates from its registered office and has thirty-five (35) branches located at Obalende, Ikeja, Garki-Abuja, Wuse-Abuja, PortHarcourt, Kano, Osogbo, Benin, Akure, Onitsha, Sokoto, Lokoja, Lafia, Bauchi, Yola, Enugu, Kaduna, Oji River, Ibadan, Abeokuta, lkorodu, Tejuosho, Asaba, Calabar, Aba, Aswani, Awka, Port Harcourt 2, Jos, Ilorin, Minna, Uyo, Owerri, Ekiti and Makurdi.
Analysts at Investogist have a BUY rating on the stock of the bank, with a fair value price range of N1.15 – N1.30.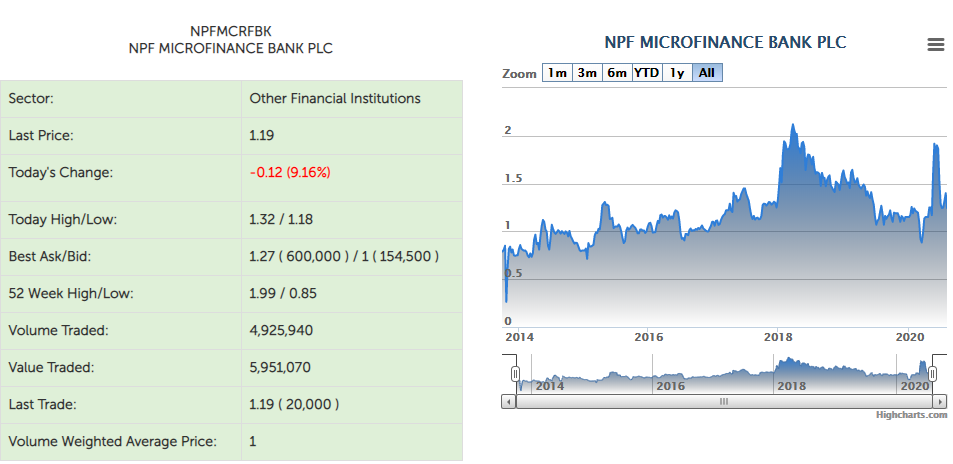 Source: Mytradebook
Written by;
Nnamdi M.