The Nigerian local bourse enjoyed its second day of gains in as many days this week, as appreciation in the share prices of Telecom stocks kept the All-Share Index on positive ground.
With AIRTELAFRI advancing by 5.69% and MTNN by 1.79%, the NGX ASI recorded a 0.81% increase on Tuesday, closing at 38,917.99 points.
YTD loss improved further to -3.4%, while the market capitalization rose by N163.2bn to N20.3tn.
Activity level
Trading activity was mixed as volume traded fell by 5.3% to 231.5m units while value traded rose by 11.8% to ₦2.1bn.
Shares of TRANSCORP was the most traded shares by volume again on Tuesday, with 17.47 million shares exchanging hands.
JAIZ and HONYFLOUR shares were the second and third most traded by volume wit 16.58 million and N13.03 million respectively.
MTNN, GTCO and ZENITHBANK shares were the most trade by value in that order, with shares worth N376.81mn, N200.45mn, and N175.77mn respectively.
The most trading was done on ZENITHBANK shares, which saw 320 trade deals. This was followed by GTCO and OANDO wit 298 and 260 trade deals respectively.
Performance of Indices under our watch
The performance of the five indices under our watch are as below;
Industrial Goods Index: 0.00%
Oil & Gas Index: -0.24%
Consumer Goods Index: -0.26%
Banking Index: -0.81%
Insurance Index: -0.97%
Investor Sentiment
Investors sentiment, as measured by market breadth (advance/decline ratio), declined to 0.4x from 0.6x recorded in the last trading session as 11 stocks advanced while 26 stocks declined.
Top Gainers:
WEMA gained 5.95% to close at N0.89
UPDC gained 5.93% to close at N1.25
AIRTEAFRI gained 5.69% to close at N650.00
COURTVILLE gained 4.17% to close at N0.25
CUTIX gained 3.95% to close at N5.00
Top Losers:
FTNCOCOA lost 8.16% to close at N0.45
HONYFLOUR lost 7.78% to close at N1.54
MBENEFIT lost 5.13% to close at N0.37
TRANSCORP lost 5.10% to close at N0.93
NEIMETH lost 5.06% to close at N1.50
Outlook
We expect the financial reports for the H1 period to dictate the direction of the market in coming trading sessions.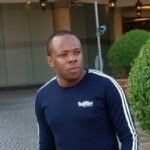 Nnamdi Maduakor is a Writer, Investor and Entrepreneur