The meeting of the Board of Directors of MRS Oil Nigeria Plc (NGX: MRS) held on Monday, September 4, 2023, was adjourned due to inconclusive discussions.
Also read; OANDO Plc to acquire 100% of Nigerian Agip Oil Company Limited
In a regulatory filing n Wednesday, MRS stated that the meeting was adjourned to Tuesday, September 12, 2023 at 12 noon.
The Board had met on the aforementioned date by 12noon to deliberate on some price sensitive information.
The share price of MRS Oil Nigeria Plc had recorded an astronomical rise, going from N14.10 per share in January to N27.05 on 8th May, 2023.
It then rose from N27.05 in May to N109.45 per share as at the end of trading on Wednesday on the floor of the Nigerian Exchange.
Year-to-date, the share price has risen by 676.24%, over the past 3 months, it has risen by 101.94%. The share price has stagnated at N109.45 over the past one month.
The 52 week low of the share price is N10.55, while the 52 week high is N10.9.45.
MRS reported a profit after tax of N1.31bn (2022: N339.87mn) for the period ended 31 December, 2022, from revenues of N100.77bn (2022: N71.97bn).
About the company
The Company was incorporated as a privately owned Company in 1969 and was converted to a Public Limited Liability Company quoted on the Nigerian Exchange Limited (formerly known as Nigerian Stock Exchange) in 1978, as a result of the 1977 Nigerian Enterprises Promotions Decree. The Company is domiciled in Nigeria and its shares are listed on the Nigerian Exchange Limited (NGX).
The marketing of products in Nigeria commenced in 1913 under the Texaco brand, when they were distributed exclusively by CFAO, a French Multinational Retail Company. In 1964, Texaco Africa Limited started direct marketing of Texaco products, selling through service stations and kiosks acquired from the said multinational retail Company, on lease terms.
On 12 August 1969, Texaco Nigeria Limited was incorporated as a wholly owned subsidiary of Texaco Africa Limited, thus inheriting the business formerly carried out in Nigeria by Texaco Africa Limited. With the promulgation of the Nigerian Indigenization Decree in 1978, 40% of Texaco Nigeria Limited shares, was sold to Nigerian individuals and organizations by Texas Petroleum Company.
In 1990, the Companies and Allied Matters Decree came into force and this necessitated the removal of Limited from the Company's corporate name, to the prescribed 'Public Limited Liability Company' (PLC) with its shares quoted on the Nigerian Exchange Limited.
Following the creation of ChevronTexaco in 2001 from the merger between Chevron Corporation and former Texaco Inc., Texaco Nigeria Plc became an integral part of the new corporation. As Chevron Texaco considered the acquisition of former Union Oil Company of California (UNOCAL), the Board of ChevronTexaco decided to eliminate 'Texaco' from the corporate name and retain only Chevron as the new name of the enlarged corporation.
Effective 1 September 2006, the Company's name changed from Texaco Nigeria Plc to Chevron Oil Nigeria Plc following a directive from Chevron Corporation's headquarters to all affiliate companies. This was designed to present a clear, strong and unified presence of Chevron Corporation throughout the world.
On 20 March 2009, there was an acquisition of Chevron Africa Holdings Limited, (a Bermudian Company) by Corlay Global S.A. of Moffson Building, East 54th Street, Panama, Republic of Panama. By virtue of this foreign transaction, Chevron Nigeria Holdings Limited, Bermuda changed its name to MRS Africa Holdings Limited, Bermuda.
The new management of the Company announced a change of name of the Company from Chevron Oil Nigeria Plc to MRS Oil Nigeria Plc ("MRS") effective 2 December 2009, following the ratification of the name change of the Company at the 40th Annual General Meeting of the Company on 29 September 2009.
MRS Africa Holdings Limited, Bermuda, a subsidiary of Corlay Global S.A. holds 60% of  MRS' 342.88mn outstanding shares, First Pen. Cust/Asset Management Corporation of Nigeria holds 10.47% of the company's shares.
With about 80 active Company owned operating outlets and about 86 third party owned operating outlets, MRS Oil Nigeria Plc is a major player in Nigeria's petroleum products marketing industry and a leading producer of quality lubricating oils and greases.
The Company remains principally engaged in the business of marketing and distribution of refined petroleum products; blending of lubricants, manufacturing of greases and its sale.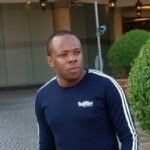 Nnamdi Maduakor is a Writer, Investor and Entrepreneur