Eterna Plc (NSE – ETERNA) equity price has been soaring since October as buying pressure mounts on the stock without letting up. Month to date ETERNA has jumped by 75.55% to N4.81.
The renewed interest in the stock started gradually from 1 September when the stock price rose N1.90 to N2.08 breaking from the flatline that has been on since 6th August.
Despite investors queuing in line to purchase the stock with little selling interest on the part of the shareholders, it is hard to pinpoint the driving force behind the sustained rally in the share price.
Read also; NESTLE, NAHCO, STERLNBANK & Others give notices of Board Meetings
According to the latest financial statements from the company for the period ended 30 June 2020, Eterna Plc's revenue slumped to N28.518 billion from N155.767 billion in the same period in 2019, due to over N121 billion fall in trading revenue. The company reported a loss of N66.580 million against a profit N112.228 million it posted in H1 2019.
However, it is worthy to note that despite the massive decline in revenue the gross profit of N2.343 billion in H1 2020 was slightly higher than the N2.279 gross profit posted in H1 2019.
In the fourth-quarter earnings forecast released by the company, it forecasted a revenue of N60.816 billion and a profit after taxation of N243.706 million.
Eterna Plc equity price movement in 3 weeks is shown below. The 52 week high and low prices are N4.81 and N1.80 per share respectively.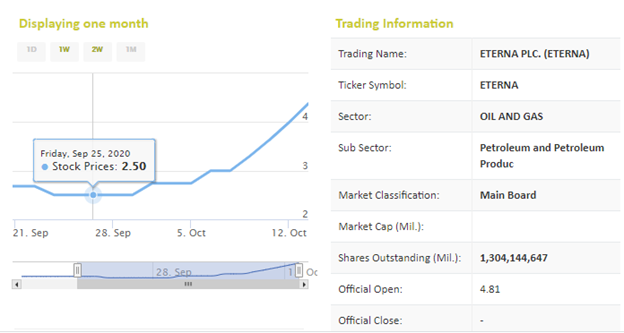 About Eterna Plc
Eterna Plc was incorporated in Nigeria as a private limited liability company in 1989. In 1997, it became a public company. The Company's shares which are currently quoted on the Nigerian Stock Exchange (NSE) were first listed in August 1998. The Company is domiciled in Nigeria and its registered office address is 5a, Oba Adeyinka Oyekan Avenue, (Formerly Second Avenue), Ikoyi, Lagos.
Eterna Plc manufactures and sells lubricating oils and petrochemicals; the Company imports and sells bulk petroleum products including Premium Motor Spirit ("PMS"), Automotive Gas Oil ("AGO"), Low Pour Fuel Oil ("LPFO"), Base Oils and Bitumen.
The Company's activities also include Bunkering, Gas Distribution and Marketing Liquefied Petroleum Gas ("LPG") and Natural Gas ("NG"), Offshore and Onshore Oil Services, Gas Processing, Trading in Crude Oil and other refined petroleum products.
By; Ifunanya Ikueze