The Nigerian Exchange equities market suffered its first loss of the week on Wednesday. The All-Share Index shed 0.08% points to close trading at 47,207.27 points.
The market capitalization saw N21.35 billion taken off it to settle at N25.44 trillion.
It was another day of high number of gainers, with low number of losers, but yet the market declined.
Have you read? Ministry of Finance says HQ is not fire
This is due to the gainers table was dominated by low cap stocks, hence the gain will easily eroded by loses in higher cap stocks like DANGSUGAR and FLOURMILLS.
Activity Level
The activity waned, as both the number of shares as well as the value of the shares traded decreased.
230.64 million units of shares valued at N3.49 billion was traded in 4,377 deals. While the volume of shares traded decreased by 45.32%, the value of traded shares decreased by 32.24%.
TRANSCORP, FIDELITYBK and UCAP Shares were the most traded by volume with 23.19mn, 15.52mn, and 14.71mn shares respectively.
Shares of SEPLAT, AIRTELAFR and ZENITHBANK were the top three most traded shares by value. Shares worth N645.11mn, N316.24mn, and N302.87mn of SEPLAT, AIRTELAFR and ZENITHBANK respectively were exchanged.
Performance of Indices under our watch
The performance of the five indices under our watch are as below;
Banking Index: -0.35% (451.16 Points)
Industrial Goods Index: -0.02% (2,131.43 Points)
Consumer Goods Index: -0.97% (588.99 Points)
Oil & Gas Index: 0.04% (409.48 Points)
Insurance Index: 0.91% (188.77 Points)
The Year-to-Date performance of the All-Share Index moderated to +11.15% following Monday's loses.
Investor Sentiment
Investors sentiment as measured by market breadth (advance/decline ratio) remains strong at 1.6x, as 26 stocks gained while 16 stocks stocks declined, from 29 gainers and 18 losers recorded on Tuesday.
Top Gainers:
ETRANZACT gained 10.00% to close at N2.20
RTBRISCOE gained 9.72% to close at N0.79
NIGERINS gained 9.09% to close at N0.24
MAYBAKER gained 9.00% to close at 5.45
WEMABANK gained 8.99% to close at N0.97
Top Losers:
AFRIPRUD lost 5.77% to close at N7.35
DANGSUGAR lost 5.28% to close at N17.05
CHAMS lost 4.17% to close at N0.23
MBENEFIT lost 3.70% to close at N0.26
ETI lost 2.98% to close at N11.40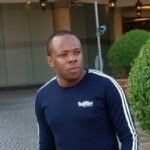 Nnamdi Maduakor is a Writer, Investor and Entrepreneur