Nigeria Center for Disease Control (NCDC) on Thursday, reported 381 new cases of Covid-19 across 18 states as follows; 183-Lagos, 55-Kano, 44-Jigawa, 19-Zamfara, 19-Bauchi, 11-Katsina, 9-Borno, 8-Kwara, 7-Kaduna, 6-Gombe, 5-Ogun, 4-Sokoto, 3-Oyo, 3-Rivers, 2-Niger, 1-Akwa Ibom, 1-Enugu, and 1-Plateau. This brings the total confirmed cases in Nigeria to 3,526.  The country has recorded 601 recoveries and 107 deaths as at 7th May.
Ten states with the highest number of confirmed cases in Nigeria are;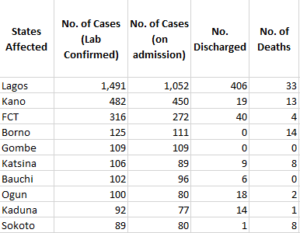 Nigeria remains the worst affected country in West Africa. It is followed by Ghana at 3,071 confirmed cases, 18 deaths and 303 recoveries. Nigeria has conducted total of 22,492 tests for Covid-19 according to the data on NCDC website as at 21:14GMT on Thursday.
Lagos state remains the worst affected state. On Thursday, Lagos State commissioner for health confirmed through his tweeter handle, that at least ten aides of Governor Babajide Sanwo-Olu have tested positive for Covid-19. However, the Governor and his tested negative for the virus for 3 consecutive times.
In River state, Governor Wike was seen on the street enforcing the "extreme lockdown" he imposed on the state capital on Monday. The Governor confirmed he arrested those who violated the lockdown order and put them in quarantine while their vehicles will be auctioned off.
"Some people don't believe that Coronavirus is in existence. Until you make them understand that we are serious, they will not believe it. We will auction the impounded vehicles". Governor Wike said.
In Jigawa State, five medics who were sent to Hadeja following rumours of an increase in fatalities in the state, said they have found no evidence to support the claims. According to the head of the investigation team, the death of 92 people in the space of eight days, was not unusual.
Although, the team did not rule out the possibility of the deaths being linked to Coronavirus because the autopsies were not carried out, as the bodies have been buried.
In another development, the Ministry of health in Lebanon announced that 25 persons among those the country evacuated from Kano on Wednesday, have tested positive for Coronavirus. Due to the ban of international flights to Nigeria, Lebanon had engaged the services of Middle East Airline in the evacuation of its citizens from Nigeria.
According to Africa Center for Disease Control, there a total number of 52,175 confirmed cases in the continent, with 17,819 recoveries and 2,024 deaths recorded as at 22:40 GMT on Thursday.
South Africa remains the worst affected country in Africa, with 8,232 confirmed cases of Covid-19, with 3,153 recoveries and 161 deaths recorded. It is followed by Egypt with 7,981 confirmed cases with1,881 recoveries and 482 deaths.
The US Food and Drug Administration has approved Moderna's coronavirus vaccine for phase two trial, the company announced Thursday. and is finalizing plans for a phase 3 trial as early as this summer. President Trump's personal Valet tested positive for Coronavirus.
The company CEO Stephane Bancel said in a statement "We are accelerating manufacturing scale-up and our partnership with Lonza puts us in a position to make and distribute as many vaccine doses of mRNA-1273 as possible, should it prove to be safe and effective,".
The company said it will begin the next round of trials with 600 participants shortly and hopes to start a phase 3 trial early this summer, which would line it up for approval for public sale as soon as 2021, he said
In china, where the Coronavirus outbreak began in 2019, as many as 15% of recovered patients retest positive without symptoms according new research. This was reported by Chinese news Media, Caixin Global. On Wednesday China reported only 2 new imported cases of Covid-19 in Shanghai and Guangdong province according to the National Health Commission. China has not reported any death from Coronavirus for the past 22 days.
Russia has topped France and Germany, to become the fifth country with the highest number of confirmed cases of Covid-19. Russia has been reporting more than 10,000 new cases for the past 5 consecutive days. The country has a reported a total 177,160 confirmed cases, 23,803 recoveries and 1,625 deaths.
Globally, there are 3,825,028 confirmed Covid-19 cases, 1,273,802 recoveries and 267,996 deaths, according to John Hopkins Coronavirus Resource Center.
The race for vaccine and treatment in ongoing around the world. According the World Health Organization, there are 102 potential vaccines with 8 given green light for clinical trials.
381 new cases of #COVID19;

183-Lagos
55-Kano
44-Jigawa
19-Zamfara
19-Bauchi
11-Katsina
9-Borno
8-Kwara
7-Kaduna
6-Gombe
5-Ogun
4-Sokoto
3-Oyo
3-Rivers
2-Niger
1-Akwa Ibom
1-Enugu
1-Plateau

3526 cases of #COVID19 in Nigeria
Discharged: 601
Deaths: 107 pic.twitter.com/H5ouYwO9Cj

— NCDC (@NCDCgov) May 7, 2020
Written by
Ifunanya Ikueze