The share price of the biotech company Moderna has continued to rise amid news from the company that the  Phase 3 study of its mRNA vaccine candidate (mRNA-1273) against COVID-19 has begun dosing participants.
The share price rose as much as 11% in premarket trading Monday according to Business Insider.
On Sunday, Moderna announced that U.S. government has committed up to an additional $472 million to "support late stage clinical development including the expanded Phase 3 study of the Company's mRNA vaccine candidate (mRNA-1273) against COVID-19," according to a statement.
In April 2020, Moderna was awarded up to $483 million from the government's Biomedical Advanced Research and Development Authority. The total value of the award is now about $955 million.
Moderna shares have soared more than 300%YTD as it has emerged as a front-runner to developing a COVID-19 vaccine. At the time of this report, the share price was up by 9.11% at $80.43 per share.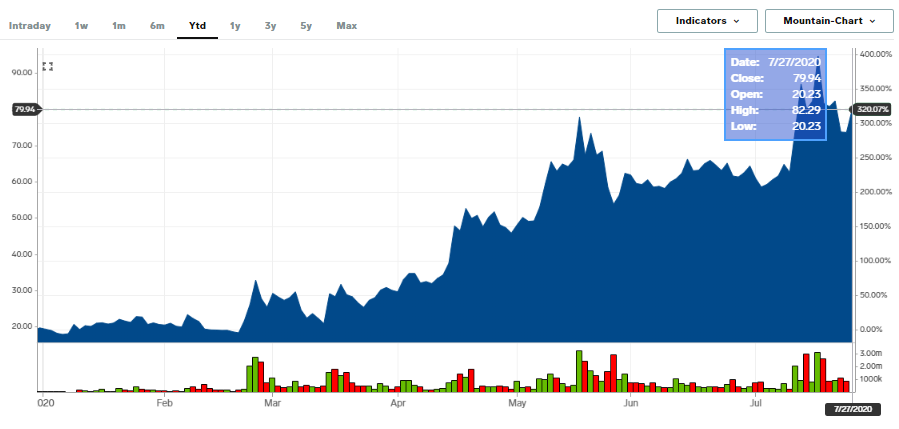 Source; Business Insider
"Encouraged by the Phase 1 data, we believe that our mRNA vaccine may aid in addressing the COVID-19 pandemic and preventing future outbreaks," Moderna CEO Stéphane Bancel said in a statement. 
Read also; Julius Berger Nig. Plc falls under the hammer of Covid-19, as loss amounts to over N1.9 bn in H1 2020
The Phase 3 study, called the COVE (Coronavirus Efficacy) study, is being conducted in collaboration with the National Institute of Allergy and Infectious Diseases (NIAID), part of the National Institutes of Health (NIH) and the Biomedical Advanced Research and Development Authority (BARDA), part of the Office of the Assistant Secretary for Preparedness and Response at the U.S. Department of Health and Human Services.
The Phase 3 study protocol has been reviewed by the U.S. Food and Drug Administration (FDA) and is aligned to recent FDA guidance on clinical trial design for COVID-19 vaccine studies.
The randomized, 1:1 placebo-controlled trial is expected to include approximately 30,000 participants at the 100µg dose level in the U.S. The primary endpoint will be the prevention of symptomatic COVID-19 disease. Key secondary endpoints include prevention of severe COVID-19 disease (as defined by the need for hospitalization) and prevention of infection by SARS-CoV-2.
"We are pleased to have started the Phase 3 COVE study," said Stephane Bancel, CEO at Moderna in a statement. We are indebted to the participants and investigators who now begin the work of the COVE study itself. We look forward to this trial demonstrating the potential of our vaccine to prevent COVID-19, so that we can defeat this pandemic."
Written by;
Ifunanya Ikueze