China's exports rose for the third consecutive month in August, to the highest rate in 17 months, as more of its trading partners relaxed coronavirus lockdowns, in addition to a surge in shipments of masks to countries battling Covid-19.
Exports rose 9.5% year-on-year to $235.3 billion in August, accelerating from July's 7.2% growth rate. It was the fastest expansion since March 2019, according to data released Monday by the General Administration of Customs.
On the other hand, imports declined for a second straight month, official data showed. Imports dropped 2.1% year-on-year in August to $176.3 billion, steeper than a 1.4% decline the previous month.
Have you read?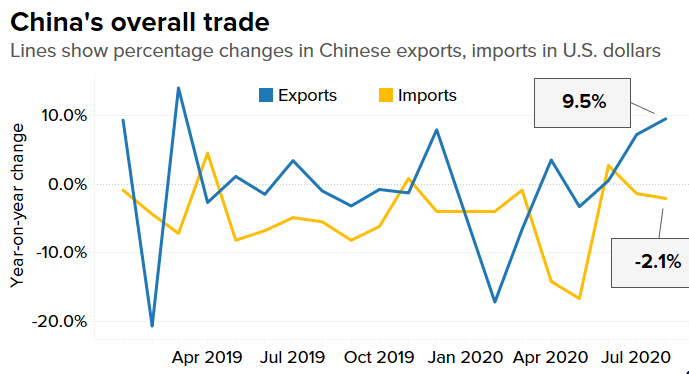 Source: China Customs, Refinitiv
Economists polled by Reuters had expected exports to have climbed 7.1% in August from a year ago compared with a 7.2% rise in July, while imports were expected to climb 0.1% in August from a year ago, reversing a 1.4% decline in July.
China posted a trade surplus of $58.93 billion for the month of August, beating the $50.50 billion economists had expected. China's trade surplus was $62.33 billion in July.
China's trade surplus with the United States widened to $34.24 billion in August from $32.46 billion in July.
The strong exports suggest a faster and more balanced recovery for the world's second-biggest economy, which is rebounding from a record first-quarter slump thanks largely to domestic stimulus measures.
Even though the overall picture for China's trade improved, the outlook is not without turbulence as imports data pointed to weak domestic consumption, said Gary Ng, Asia Pacific economist at Natixis.
Headwinds for the Chinese economy also include the upcoming U.S. presidential election in November amid an already tense relationship between the world's two largest economies. The U.S.-China disputes include a range of issues from trade to technology.
Written by;
Ifunanya Ikueze