The unemployment rate fell to 8.4 percent in August, according to the U.S. Bureau of Labor Statistics report released on Friday.
The U.S. economy added 1.4 million jobs in August as the unemployment rate unexpectedly tumbled, indicating the nation's labor market is continuing slow but steady recovery from the coronavirus pandemic.
The unemployment data beat expectation. Economists surveyed by Refinitiv expected unemployment to dropped 9.8 percent in August.
The U.S Unemployment rate has continued to decline after reaching a peak of 14.7 percent in April, but still remains far above the 3.5 percent recorded in February, before coronavirus shutdowns took hold.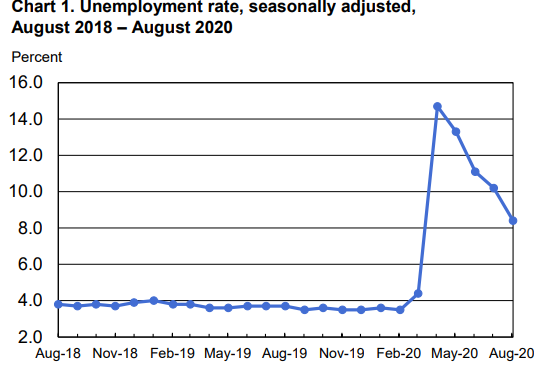 Source: Bureau of Labor Statistics
These improvements in the labor market reflect the continued resumption of economic activity that had been curtailed due to the coronavirus (COVID-19) pandemic and efforts to contain it.
In August, an increase in government employment – 344,000, helped to boost the figure.
Notable job gains also occurred in retail trade which added  249,000 new jobs, in professional and business services with an addition of 197,000 workers, in leisure and hospitality 174,000 positions were filled, and in education and health services rose by 147,000.
Transportation rose by 78,000. Financial activities increased by 36,000, manufacturing rose by 29,000 and wholesale trade was up by 14,000.
U.S economy has added back about half of the 22 million jobs it lost during the pandemic, over the past four months, according to the data released.
However, there are still 11.5 million more out-of-work Americans than in February.
Among the major worker groups, the unemployment rates declined in August for adult men (8.0 percent), adult women (8.4 percent), teenagers (16.1 percent), Whites (7.3 percent), Blacks (13.0 percent), and Hispanics (10.5 percent). The jobless rate for Asians (10.7 percent) changed little over the month.
Written by;
Ifunanya Ikueze