Four members of the European Union has refused to round up male refugees from Ukraine, whom Kiev deem to be draft-eligible, RT reported on Wednesday.
Also read; UK govt to pay £10k to Nigerian teachers, others who relocate to the UK; details and how to apply
In late August, a senior lawmaker from President Vladimir Zelensky's ruling party said that Ukraine might seek extradition of draft-dodgers from the EU.
Zelensky had in August fired all the heads of Ukraine's regional army recruitment centres in a sweeping anti-graft move, ordered a review of all medical exemptions from military service.
The government in Kiev recently announced another round of mobilization, and had adopted new rules for military conscription.
Austria, with about 14,000 potential draftees among the 101,000 Ukrainian refugees within its borders was the first to refuse extradition of military-age men.
"That would be a massive encroachment on our statehood, we would never do that," a spokesman for the Interior Ministry told the outlet Exxpress on September 7.
On Wednesday, Czech Republic announced that it would not send military-age men who came as refugees back to Ukraine to be conscripted.
European conventions exclude extradition for things such as desertion or draft evasion, Justice Ministry spokesman Vladimir Repka told the outlet iDnes.
Hungary also ruled out any extradition of Ukrainian refugees.
"We are not investigating any Ukrainian refugees to determine if they have been called up for military service. Hungary will not extradite them to Ukraine," Deputy Prime Minister Zsolt Semjén told the outlet ATV on Wednesday. "All refugees from Ukraine are safe in Hungary."
Speaking to Deutsche Welle earlier this week, German officials stated that Berlin did not intend to send draft-eligible refugees back, since desertion and draft evasion are not crimes under German law. 123,000 Ukrainian men of military-age are reported to be in Germany.
On the other hand, Poland has already begun sending some Ukrainian men back, according to Hungarian media reports.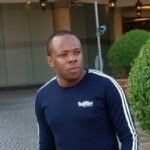 Nnamdi Maduakor is a Writer, Investor and Entrepreneur