Nigerian LNG Limited was incorporated as a limited liability company on May 17, 1989 to harness Nigeria's vast natural gas resources and produce Liquified Natural Gas (LNG) and Natural Gas Liquids (NGLs) for export. It is based on Bonny Island, Rivers State Nigeria.
The company is owned by four shareholders, namely, the Federal Government of Nigeria, represented by Nigerian National Petroleum Corporation (49%); Shell (25.6%); Total Gaz Electricite Holdings France​ (15%) and Eni (10.4%).
The company has two wholly-owned subsidiaries; Bonny Gas Transport Limited (BGT) set up in 1989, to provide shipping capacity for the NLNG, and NLNG Ship Management Limited (NSML) set up in 2008 to give dedicated attention to providing, developing and managing high caliber personnel for NLNG's maritime business.
In 1990, the Nigerian government enacted the Nigerian LNG (Fiscal Incentives, Guarantees and Assurances) Act to – confer pioneer status on the NLNG; exempt it from certain taxes, customs duties, other levies and the provisions of the Pre-Shipment Inspection of Imports Act; and provide guarantees and assurances to the NLNG and its shareholders.
Section 7 of the NLNG Act provides the wide-reaching tax exemptions, while the Second Schedule provides the FGN's guarantees, assurances and undertakings to the NLNG and its shareholders.
Significant among this, is the undertaking that the fiscal regime under the NLNG Act shall not be amended in any way except with the prior written agreement of the FGN, NLNG and the NLNG shareholders.
The provisions of these guarantees provided assurances to Investors; assurances that contributed to the success of the NLNG Venture. Its most prominent effect to date, was the shelved "Bill for an Act to amend the Nigerian LNG (Fiscal Incentives, Guarantees and Assurances) Act 2017" that was brought to the house of representatives.
The Bill had sought to amend the NLNG Act by expressly subjecting the Nigerian LNG Limited to pay 3% of its total annual budget to the Niger Delta Development Commission.
The NLNG plant was built by TSKJ Consortium, which was led by former Haliburton's subsidiary KBR, and other participants of the consortium were Snamprogetti, Technip and JGC Corporation.
Construction of the plant (Trains 1 & 2) started in February 1996, and on 15 September, 1999, the NLNG plant started production. It exported its first LNG cargo on October 9, 1999. The NLNG plant was officially commissioned on September 21, 2000.
The NLNG currently operate six liquefaction units (LNG Trains), on Bonny Island in Rivers State, and is capable of producing 22 Million Tonnes Per Annum (MTPA) of LNG, and 5 MTPA of NGLs (LPG and Condensate) from 3.5 Billion (standard) cubic feet per day (Bcf/d) of natural gas intake.
Trains 1, 2 and 3 which was built at a cost of US$5.4 billion, financed by NLNG's shareholders (Train 3 had additional funding from reinvested revenue) have production capacities of 3.2 MTPA. Train 2 commenced production on September 15, 1999, while Train 1 started operation on February 27, 2000. LNG production from Train 3 commenced on November 28, 2002.
Trains 4 & 5 which cost US$2.2 billion, funded with a combination of internally generated revenue and third party loans has production capacities of 4.1 MTPA. Start up of Trains 4 and 5 happened on November, 2005 and February 2006 respectively.
Train 6 cost US1.748 billion, financing by shareholders, and it has a production capacity of 4.1 MTPA. Feedgas reception facilities for the 6-Train complex became fully operational in June, 2007.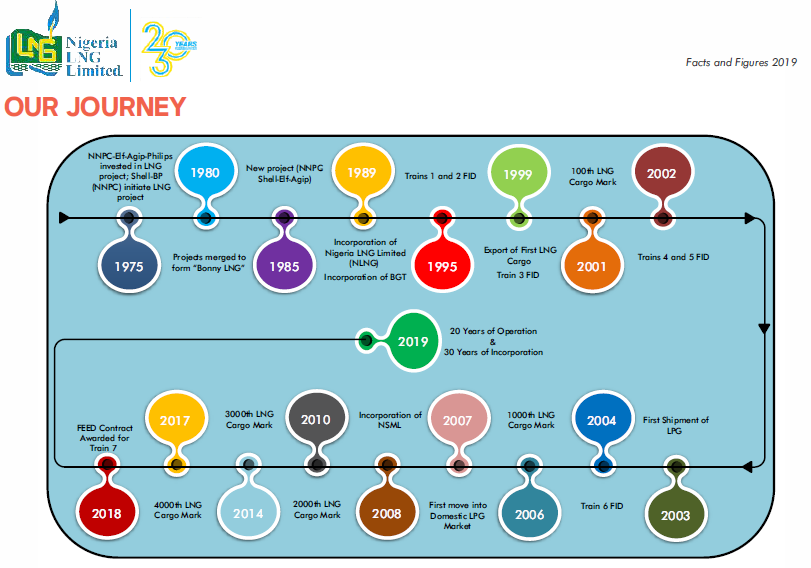 Source: Nigeria LNG Limited Facts and Figures 2019
On Wednesday, 13 May, 2020, NLNG signed the Engineering, Procurement and Construction (EPC) Contracts with SCD JV Consortium for its Train 7 project. The SCD JV Consortium comprises of affiliates of Saipem, Chiyoda and Daewoo.
The new Train is expected to increase the capacity of NLNG's current six-train plant by 35% from the extant 22 MTPA to 30 MTPA, an increment of approximately 8 MTPA. The new train will cost US$7 billion to build while another US$3 billion will be necessary for the construction and installation of pipelines to feed the new facility and for natural gas gathering projects.
"In order to finance the construction, NLNG will raise as much as US$2 billion from the top ten domestic lenders, and will go to foreign banks and export credit agencies for the remainder of the funding; US$8 billion", Engr. Tony Attah, the Managing Director and CEO of NLNG told Bloomberg.
The construction period for the new train is expected to last approximately five years with first LNG rundown expected in 2025, according to a press release by Eyono Fatayi-Williams, General Manager, External Relations at NLNG.
The success of Nigeria LNG Limited is seen and appreciated by both Nigerians and foreigners. Could the same model be applied to the Petroleum Refineries currently owned and operated by the Nigerian National Petroleum Company (NNPC)?
From the shareholding structure of the NLNG, it can be seen that the NLNG is not subjected to the whims and caprices of government, thus allowing the company to thrive. This cannot be said for the refineries run by the NNPC, which is bedeviled by politics and continued interferences by government of the day.
A study of ownership of some 18 refineries in Sub-Saharan Africa in 13 countries; Angola, Cameroon, Congo, Cote D'Ivoire, Ghana, Gabon, Kenya, Madagascar, Nigeria, Sudan, South Africa, Senegal and Zambia show that it was only in 4 of these countries that the refineries we studied are fully owned and operated by the national government. These 4 countries are Congo, Ghana, Nigeria and Zambia.
The viability or non-viability of the refineries in Congo, Ghana and Zambia cannot be spoken to by this reporter, but the colossal failure of the 4 refineries owned and operated by the NNPC is not a question of debate.
The refineries owned and operated by the NNPC are all of the complex type; Kaduna Refinery, Port I & II Refinery, and Warri Refinery.
Written by;
Nnamdi M.