If you had been able to invest N100,000.00 on Meyer Plc (NGX: MEYER) on Monday 18th April, 2022, by the end of Friday, 22nd April 2022, your investment would have been worth N145,630.00, as the stock gained 45.63% in the week.
Along with MEYER, 5 other stocks recorded double digit gains in the week; Eterna Plc, Oando Plc, Guinness Nigeria Plc and FTN Cocoa Processors Plc.
NGX Market report shows that a total turnover of 1.302 billion shares worth N17.813 billion in 20,212 deals was traded this week by investors on the floor of the Exchange, in contrast to a total of 1.247 billion shares valued at N22.372 billion that exchanged hands last week in 23,406 deals.
The NGX All-Share Index and Market Capitalization appreciated by 2.00% to close the week at 48,459.65 and N26.125 trillion respectively.
The Top 3 gainers in the week are;
#1 Meyer Plc (NGX: MEYER) – 45.63%
The stock price opened the week at N1.60, and enjoyed straight maximum gains to close at N2.33, adding 73 kobo to its value.
Since the announcement and payment of N1.50 interim dividend in August 2021, the share price of MEYER has been rising from the floor price of N0.20 post dividend qualification. With little liquidity in the stock, bids to buy with no corresponding offers has seen the stock price continue to rise.
The company (peviously called DN Meyer Plc) is a manufacturing Company incorporated in Nigeria on the 20th of May 1960. The name was changed by a special resolution and the authority of the Corporate Affairs Commission on the 1st of July 2016.
The Company manufactures and markets paints. The shares of the Company are held as to 31.43% by Greenwich Capital Limited, 30.93% by Bosworth Investments & Services Limited, 5.42% by Mr. Osa Osunde, 5.06% by Mr. Kayode Falowo and 27.16% by Nigerian citizens.
Its registered office is at No 32, Billings way, Oregun Industrial Estate, Alausa Ikeja, Lagos.
The consolidated and separate statement of profit or loss and other comprehensive income for the year ended 31 December 2021, shows that the company made a profit of only N33.66 million, significantly lower than the N1.11 billion it reported in the preceding year.
With an Earnings Per Share of 7 kobo, MEYER is currently trading at a trailing Price to Earnings (P/E) ratio of 33x.
#2 Eterna Plc (NGX: ETERNA) – 33.00%
The stock price opened the week at N5.00, and enjoyed straight maximum gains to close at N6.65, adding N1.65 to its value.
On 19th April, the majority shareholder in the company, Preline Limited disclosed it's intention to proceed Mandatory take over bid to acquire 1,300,000 ordinary shares of ETERNA at N13.50.
The market response has driven the share price from N5.00 to N6.65, reversing its hitherto download slide.
Eterna Plc was incorporated in Nigeria as a private limited liability Company in 1989. In 1997, it became a public Company.
The Company's shares which are currently quoted on the Nigerian Stock Exchange (NSE) were first listed in August 1998.
The Company is domiciled in Nigeria. Its registered office address is: 5a Oba Adeyinka Oyekan Avenue (Formerly Second Avenue) Ikoyi Lagos.
Eterna Plc manufactures and sells lubricating oils and petrochemicals; the Company imports and sells bulk petroleum products including Premium Motor Spirit ("PMS"), Automotive Gas Oil ("AGO"), Low Pour Fuel Oil ("LPFO"), Base Oils and Bitumen.
The Company's activities also include Bunkering, Gas Distribution and Marketing (Liquefied Petroleum Gas ("LPG") and Natural Gas ("NG"),Offshore and Onshore Oil Services, Gas Processing, Trading in Crude Oil and other refined petroleum products.
Eterna Plc has 1.304 billion outstanding shares and a market capitalization of N8.67 billion. Preline Limited is the majority shareholders with 805.21 million units of shares representing 61.74% ownership.
Eterna's consolidated and separate statement of profit or loss and other comprehensive income shows that the company slipped into loss for the financial year ended 31st December, 2021.
The company reported a loss of N1.10 billion, from a profit of N941.04 million reported in 2020.
The company has no earnings to speak, thus barring the mandatory takeover bid on the table, there is no justification for the current share price and the trajectory it is on.
#3 Oando Plc (NGX: OANDO) – 21.33%
The stock price opened the week at N4.83, and closed at N5.86, adding N1.03 to its value.
Investors and speculators alike are moving in on the stock in anticipation of what will be and not what is.
The Board of Directors of Oando is scheduled to meet on 29 April, to consider and approve the Group's Audited Financial Statements for the year ended 31 December 2019, and other corporate actions.
Oando has not released its 2019 financial reports, and other subsequent ones due to internal wrangling that brought in the courts and Securities and Exchange Commission.
These has now been resolved, and the company has promised to release all outstanding results within the year.
Oando has 12.43 billion outstanding shares and a market capitalization of N72.84 billion.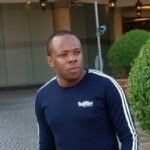 Nnamdi Maduakor is a Writer, Investor and Entrepreneur