Eterna Plc (NGX: ETERNA) has announced that the company's major shareholder Preline Limited has notified it of its intention to proceed with a Takeover bid to acquire 1,300,000 ordinary shares equivalent to 0.10% equity stake in Eterna Plc from other shareholders at a price of N13.50 per share.
A review of the company's annual report and financial statements for the year ended 31 December 2021 shows that Preline Limited held 805,213,517 shares of ETERNA, representing 61.74%.
Read also; List of Dividends announced in 2022, qualification and payment dates
Investogist had reported in August 2021 that substantial shareholders were divesting from Eterna Plc. The shareholders including Meristerm Wealth Management had executed a Sale and Purchase Agreement (SPA) with Preline Limited, who at the time was a new investor in the company.
According to the document signed by Bunmi Agagu, Company Secretary/Legal Adviser,  "substantial shareholders – Lenux Integrated Resources Limited, Global Energy & Raw Materials Limited, Meristem Wealth Management Limited, Radix Capital Partners Limited, GASL Nominee Limited, GTI Capital Limited and Cardinalstone Partners Limited have executed a Sale and Purchase Agreement (SPA) that enables Preline Limited acquire 794,969,774 (Seven Hundred and Ninety Four Million Nine Hundred and Sixty Nine Thousand Seven Hundred and Seventy Four) shares of Eterna Plc representing 60.98% in the Company."
With 60.98% ownership, Preline triggered the mandatory tender offer (MTO) provisions of the Investment and Securities Act and Securities and Exchange Commission (SEC) Regulations.
Having been authorized to proceed with an MTO by SEC, Preline Limited has now embarked on this Takeover bid to acquire 1,300,000 ordinary shares (0.10%) of Eterna Plc.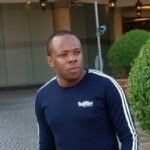 Nnamdi Maduakor is a Writer, Investor and Entrepreneur