As the Nigerian Stock Exchange (The NSE) summarized the week in its weekly report, "It was a historic trading week as the NSE All Share Index (ASI) posted its largest daily gain in more than five years on Thursday, 12 November 2020".
The ASI rose beyond the set threshold of 5% triggering a 30 minute trading halt of all stocks for the first time since the Circuit Breaker was introduced in 2016.
Read also; Transcorp and Efora Settle Legal Disputes on OPL 281
The Circuit Breaker protocol was triggered at 12:55p.m., when the NSE ASI increased from 33,268.36 to 34,959.39. The market reopened at exactly 1:25p.m., with a 10 minute intra-day auction session before resuming continuous trading till the close of the day at 2:30p.m.
The market index continues its rise after trading resumed on Thursday, to close at 35,342.46 points, recording a gain of 6.23%, and adding over N1.1 trillion to the Market Capitalization.
Thursday's record breaking session was followed by a negative performance on Friday, probably due to Investors taking profit from the weeks phenomenal gains. The NSE All Share Index declined by 0.86% (305 points) on Friday to close at 35,037.46 points.
Overall, it was an impressive week for the Nigerian Stock Market, All Share Index rose by 4,021.29 points while the Market Capitalization increased by N2.101 trillion, representing a gain of 12.97%.
A total turnover of 4.509 billion shares worth N58.733 billion in 47,140 deals were traded this week by investors on the floor of the Exchange, in contrast to a total of 2.067 billion
shares valued at N22.636 billion that exchanged hands last week in 25,187 deals.
The Financial Services industry (measured by volume) led the activity chart with 3.073 billion shares valued at N35.408 billion traded in 25,894 deals; thus contributing 68.15% and 60.29% to the total equity turnover volume and value respectively.
The Conglomerates Industry followed with 437.822 million shares worth N771.280 million in 1,864 deals. The third place was the Consumer Goods Industry, with a turnover of 373.613 million shares worth N7.816 billion in 7,471 deals.
Trading in the top three equities namely Zenith Bank Plc, FBN Holding Plc and Transcorp Hotels Plc (measured by volume) accounted for 1.426 billion shares worth N18.083 billion in 9,537 deals, contributing 31.63% and 30.79% to the total equity turnover volume and value respectively.
While the volume of stocks traded increased by 118.14%, the value of traded stocks increased by 159.47% and the number of deals done in the week was up by 87.16%.
The Investogist activity chart shows that The NSE saw its second and third days with highest volume and value of stocks in the year so far.
The highest number of deals ever recorded this year was recorded in the week in review as well.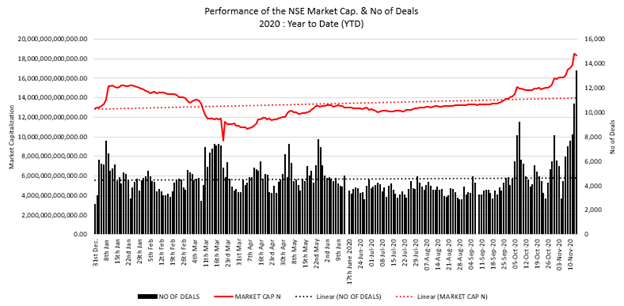 At the end of trading on Friday, 13th November, the NSE ASI is up by 30.53%, YTD. The YTD Performances of the 5 indices under our watch are as below.
Industrial Goods Index: +48.56%
Insurance Index: +22.54%
Banking Index: +22.02%
Consumer Goods Index: 3.15%
Oil & Gas Index: -18.61%
In the week in review, all of the 5 indices under our watch appreciated;
Industrial Goods Index: 16.97%
Banking Index: +14.37%
Consumer Goods Index: 11.35%
Insurance Index: +7.67%
Oil & Gas Index: 5.34%
Sixty-nine (69) equities appreciated in price during the week, higher than Forty (40) equities in the previous week.
Twelve (12) equities depreciated in price, lower than Twenty-four (24) equities in the previous week, while eighty (80) equities remained unchanged, lower than ninety- seven (97) recorded in the previous week.
Investor sentiment as measured by market breadth (advance/decline ratio) strengthened to 5.75x, up from 1.67x recorded last week .
Top gainers and losers in the week, as reported by The NSE in its weekly report is as below;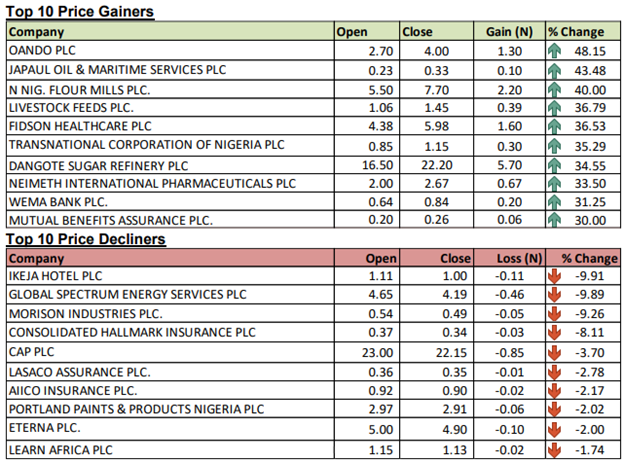 5 companies released financial statements in the week, while the share price of Airtel Africa plc was adjusted on Friday from N451.20 last close price to N445.41 to account for the N5.76 dividend whose qualification was the previous.
Bond Market
A total of 13,332 units valued at N17.142 million were traded this week in 19 deals compared with a total of 6,011 units valued at N7.543 million transacted last week in 14 deals.
The Bond Capitalization currently stands at N17.750 trillion.
ETPs
A total of 986,941 units valued at N4.685 billion were traded this week in 62 deals compared with a total of 238,441 units valued at N2.054 billion transacted last week in 8 deals.
The Week Ahead
We expect further profit taking in the coming week, but anticipate the market positive trajectory to continue, albeit at a slower pace than seem in the week in review.
By; Nnamdi M.