Nigerian Breweries Plc (NGX: NB) has stated that it has been presented an offer to acquire majority interest in Distell Wines & Spirits Nigeria Limited, producers of Chamdor non-alcoholic sparkling wine, Amarula, Savanna, among many others.
Also read; NNPC releases statement on fuel price adjustment
In a notification posted on the Nigerian Exchange, NB informed the Exchange and the investing public that at a specially convened meeting of the Board of Directors of the Company held on 30th May 2023, the Board was presented with an offer from Heineken Beverages (Holdings) Limited of South Africa, for NB to acquire Heineken Beverages' majority interests (via Distell International Limited) in Distell Wines & Spirits Nigeria Limited.
NB in the statement said that its Board resolved to consider the offer in detail with support from external legal and financial advisers
and thereafter make a decision thereon in the coming weeks.
It promised to communicate the outcome of the decision in due course.
According to a filing in June 2022 on Federal competition & Consumer Protection Commission (FCCPC), Heineken indirectly through Sunside acquisitions Holdings Proprietary Limited, acquired 80% shareholding interest in Distell Wines & Spirits Nigeria Limited.
About Nigerian Breweries
Nigerian Breweries Plc, a public company quoted on The Nigerian Exchange Limited, was incorporated on the 16th of November, 1946, under the name, Nigerian Brewery Limited.
The name was changed on the 7th of January, 1957, to Nigerian Breweries Limited and thereafter to Nigerian Breweries Plc in 1990.
The Company is a subsidiary of Heineken N.V. of the Netherlands, which held 56.69% interest in the equity of the Company as at 31st December, 2022.
About Distell Nigeria
Distell Nigeria is a subsidiary of Distell International Limited (100% owned by Heineken Beverages). Distell International Limited owns 80% shareholding in Distell Nigeria, which was founded in 2018 with its headquarters in Lagos, Nigeria.
Distell Nigeria's operations are in two folds:
Local production of wines (still and sparkling) and ciders; and
Importation of wines, spirits and flavoured alcoholic beverages from Distell Group in South Africa.
Its brand portfolio include Amarula, JC Leroux, Nederburg, Drostdy Haf, 4th Street, Bain's, Knights, Chamdor, Hunters and Savanna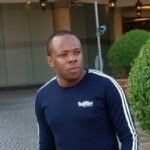 Nnamdi Maduakor is a Writer, Investor and Entrepreneur