According to OPEC Monthly Oil Market Report Released on Wednesday, Nigeria oil production for the month of July stood at 1.373 million barrels per day according based on direct communication. This represents a 380,000 barrels decline from June average of 1.411 million barrels per day.
However, Nigeria crude oil production based on secondary sources was 1.488 million barrels per day, a 90,000 barrels per day decline from June figure of 1.497 million barrels per day.
According to OPEC report, global liquids production in July increased by 1.29 mb/d to average 88.75 mb/d, compared with the previous month.
Non-OPEC liquids production (including OPEC NGLs) increased in July by 0.31 mb/d compared with the previous month to average 65.58 mb/d, lower by 4.06 mb/d y-o-y. The preliminary increases in production during July 2020, by 0.40 mb/d m-o-m, were mainly driven by the OECD, particularly Canada and Norway.
The share of OPEC crude oil in total global production increased by 0.7 pp to 26.1% in July compared with the previous month, based on preliminary data from direct communication for non-OPEC supply, OPEC NGLs and nonconventional oil, while estimates for OPEC crude production are based on secondary sources.
According to secondary sources, total OPEC-13 crude oil production averaged 23.17 mb/d in July 2020, higher by 0.98 mb/d m-o-m. Crude oil output increased mainly in Saudi Arabia, UAE, Kuwait and Iraq, while production decreased primarily in Angola, Congo and Gabon. In July, production of Libya increased to average 100 tb/d.
OPEC crude oil production based on direct communication, tb/d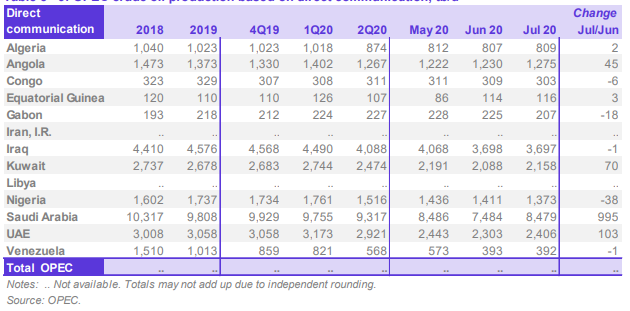 Demand for OPEC crude in 2020 is revised down by 0.4 mb/d from the previous month to stand at 23.4 mb/d, around 5.9 mb/d lower than in 2019. Demand for OPEC crude in 2021 is also revised down by 0.5 mb/d from the previous month to stand at 29.3 mb/d, around 5.9 mb/d higher than in 2020
In 2020, global oil demand growth is forecast to decline by 9.1 mb/d. This is 0.1 mb/d lower than last month's forecast, mainly due to lower economic activity levels in a few major non-OECD countries.
Total oil demand is now projected to reach 90.6 mb/d. For 2021, world oil demand growth is forecast to rise by 7.0 mb/d, unchanged from last month. Total world consumption is now pegged at 97.6 mb/d in 2021.
The forecast assumes that COVID-19 will largely be contained globally, with no further major disruptions to the global economy. Consequently, economic activities are projected to rebound steady in both OECD and non-OECD. As a result, the OECD countries are expected to witness oil demand growth of 3.5 mb/d, y-o-y, in 2021. The non-OECD countries are expected to witness similar growth, with China and Other Asia leading the gains.
Spot crude oil prices rose further in July, the third consecutive monthly increase. The OPEC Reference Basket (ORB) averaged $43.42/b in July, gaining $6.37 over the previous month to reach its highest value since February this year. The ORB year-to-date average is $39.85/b.
Crude oil futures also rose in July, again for the third consecutive month. ICE Brent ended the month $2.45 higher at $43.22/b, while NYMEX WTI rose by $2.45 to reach $40.77/b.
Read more; Vacancy; Financial Journalist are called to apply for at Civic Hive
Global refinery margins trended upwards last month, as a continued increase in mobility activities, amid the peak summer season, provided stimulus to product markets. Improvements were registered across almost the entire barrel, with Asian refining margins returning to positive territory.
Nigeria
The recent manufacturing PMI reading indicated a softer rate of contraction in manufacturing output in July, compared to the prior month, amid the easing of COVID-19 lockdown restrictions. The Central Bank of Nigeria Manufacturing PMI jumped to 44.9 in July 2020 from 41.1 in in June. Meanwhile, the CPI jumped to the sharpest level since the start of 2020 by 20 percentage points to 12.6% y-o-y in June.
In accordance, The Central Bank of Nigeria (CBN) kept all policy instruments stable at the Monetary Policy Committee (MPC) meeting in July. On the other hand, the official Nigerian Naira exchange rate was devalued for the second time in 2020 in a move to unify its multiple exchange rates to improve the transparency of the currency management system as Nigeria seeks roughly $3 billion in loans from the World Bank.
The trade balance in Nigeria flapped to a NGN 162.2 billion deficit in March of 2020, from a NGN 450 billion surplus in March 2019. Exports dropped over the same period by 33.5% to NGN 965.6 billion, the sharpest decline since March of 2017.
Read full report here.
Written by;
Ifunanya Ikueze