The 46th annual meeting of the African Development Bank is scheduled for 26-27 August, 2020, and will be held virtually to comply with the COVID-19 pandemic related social distancing guidelines.
On top of the agenda of the upcoming meetings will be the Governors' dialogue and the election of a president.
Nigeria almost doubled its voting rights in the African Development Bank to 16.8% ahead of this meeting, just in time to support her Son, Akinwumi Adesina seeking re-election to the top post at the bank.
Nigeria boosted its voting power by paying subscriptions it had pledged as part of a general capital increase, for which the bulk of payments are expected to be made before the final October 2021 deadline.
At an extraordinary shareholders' meeting held in Abidjan on 31st October, 2019, Governors of the bank representing shareholders from 80 countries, approved a landmark $115 billion increase in capital for the financial institution.
The capital increase, the largest in the history of the AfDB since its establishment in 1964, when fully redeemed would double the bank's capital from $93 billion to $208 billion, solidifying the bank's leadership on development financing for the continent.
With the subscription paid, Nigeria is now the biggest rights holder by far in the bank, followed by non-regional members Germany with 7.4% and the U.S with 5.5%, according to a memorandum sent to governors on August 2020, reported by Bloomberg.
The move may allow Nigeria to help keep Akinwumi Adesina in the presidency for another five-year term, when the vote takes place on Aug. 27. Unlike in 2015, when he faced off against Chadian Finance Minister Kordje Bedoumra and Cape Verde's Agriculture Minister Cristina Duarte, Adesina is currently the sole candidate.
Last month, an independent panel backed an African Development Bank probe that in May said it found no evidence of wrongdoing by Adesina, 60, clearing the way for his bid to seek re-election as head of the continent's biggest multilateral lender.
The Governors will vote on August 27 to elect the eighth president of the Bank. Dr. Adesina, the first Nigerian to hold the post, was elected for a five-year term on May 28, 2015, by the Bank's Board of Governors during that year's Annual Meetings held in Abidjan, Côte d'Ivoire.
Bank Governors are typically the finance and economy ministers or Central Bank Governors of the 54 African regional member countries and 27 non-regional member countries.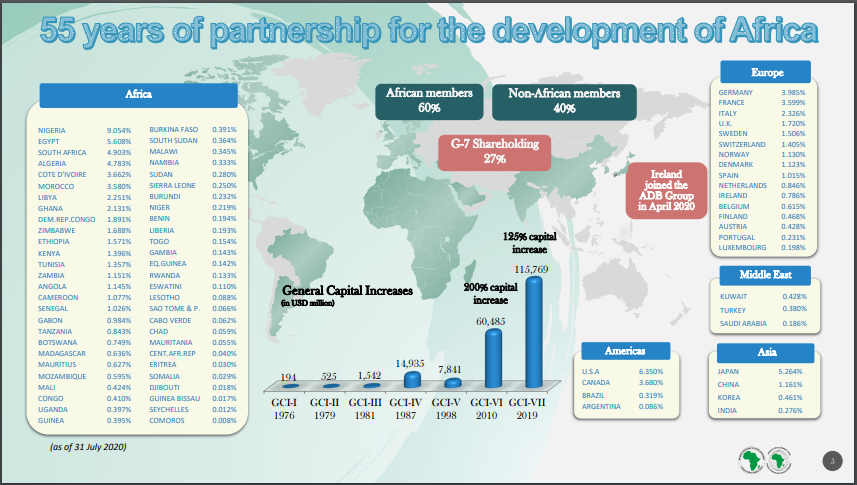 Fig: The African Development Bank's 55 years journey
Written by;
Nnamdi M.