EURUSD

EURUSD continues to consolidate in the upward sloping flag, which we have discussed for the past two weeks. Thursday's price action formed a pin bar at 1.179/1.180 at the bottom of the channel. However, there is a cluster price action which hints to move lower.
If the pin bar produces buying pressure, it might produce a push to the channel top at 1.205. A breakout to the top is quite a possibility given the general weakness of the USD, this makes trading the price action tricky. The greenback is weak and thus, I expect the pair to reach 1.205 before any breakout.
Read also; 78 Companies bid for Nigeria's downstream pipelines and depots – NNPC
EURUSD daily time frame
GBPUSD
The cable continues to breakout after it broke out of the rising wedge, it also broke a trend line from March and retested it through a session but it is still holding below the trend line.
As long as the GBPUSD remains below 1.2980, more losses remain possible. Support zones below include 1.279/1.280 followed by 1.2640
Alternatively, if buyers get a close above the confluence of resistance 1.2980, that will most likely bring the bulls back with 1.325 and 1.350 resistances on the way up.
 GBPUSD daily time frame
USDJPY
We have tracked the USDJPY until it broke out from the multiyear wedge two months ago on the monthly time frame. The pair retested the wedge bottom as new resistance and stayed below it on a monthly basis thus, keeping the bearish bias alive.
On the daily time frame, the pair just broke through a key confluence of support as it breaks away from a narrowing wedge. The close below 104.60 on Friday though marginally exposes 101.590.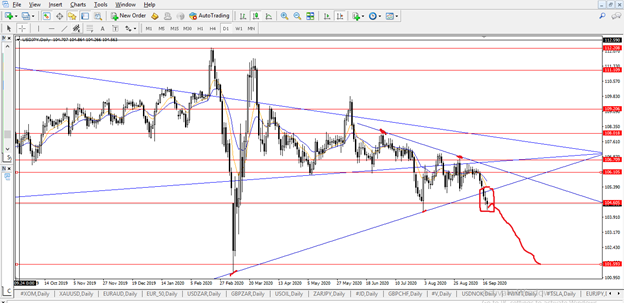 USDJPY daily time frame
GBPNZD
We discussed GBPNZD weeks ago as it approached the bottom of the multiyear ascending channel looking for a possible breakout. Contrary to that the pair bounced off the support. Fast forward to today, the pair is back on the channel support 1.90652.
A weekly close below the channel will expose 1.828, 1.1745 followed by 1.6690.
Alternatively, a buy signal from the 1.908 will send the pair higher with channel top being the target in the coming days and weeks.
GBPNZD weekly time frame.
Written by:
Chijioke Maduakor