Flourmills of Nigeria Plc (NSE: FLOURMILL) earlier today released its audited financial statements for the year ended 31 March 2020, and it sent Investors and traders scrambling its shares.
The share price gained the maximum 9.97% to close at N18.75 on Monday, up N1.70 from its opening price of N17.05. A total of 3.45 million units of the company shares exchanged hands in 94 deals worth N64.295 million.
In the year in review, the company reported a revenue of N573.774 billion, 8.79% higher than the N527.404 billion revenue recorded in the preceding financial year. Revenue from sales of goods (Food, Agro Allied Products, and Sugar) increased, while the revenue from support services declined from N20.999 billion to N12.327 billion.
In the preceding year, FLOURMILL had discontinued its fertilizer processing business and transferred the assets and liabilities of the Fertilizer division to Golden Fertilizer Company Limited. The fertilizer division recorded a revenue of N18.728 billion last year, and a net profit after tax of N1.768 billion.
The company was able to achieve a proportionate increase in the cost of sales, thus increasing its gross profit margin from 10.12% to 11.47%. It reported a gross profit of N65.787 billion, an increase of N12.439 billion from the N53.347 billion from the preceding financial year.
Have you read?
The same proportionality was achieved in the other expenses, while the investment income was grown from N768.592 million to N2.392 billion (from interest income from short term investments and bank deposits). A further 12.74% decrease in the finance cost was achieved, as it dropped from N22.891 billion to N19.975 billion.
The company went on to report a bumper increase in the profit from continuing operations; 184.41% up from N4.000 billion reported in FY 2019 to N11.376 billion in the Full Year 2020.
A review of the company's balance sheet shows that approximately 64% of its assets is funded by liabilities. The liabilities as at 31 March 2020 is N276.646 billion, a 4.06% increase from the N265.849 billion recorded on 31 March 2019. The major components of the liabilities are;
Non-current liabilities: N80.675 billion borrowing, N14.787 billion deferred income and N11.848 deferred tax.
Current liabilities: N83.613 billion trade and other payables, N23.343 billion borrowings, and N19.970 billion customer deposit.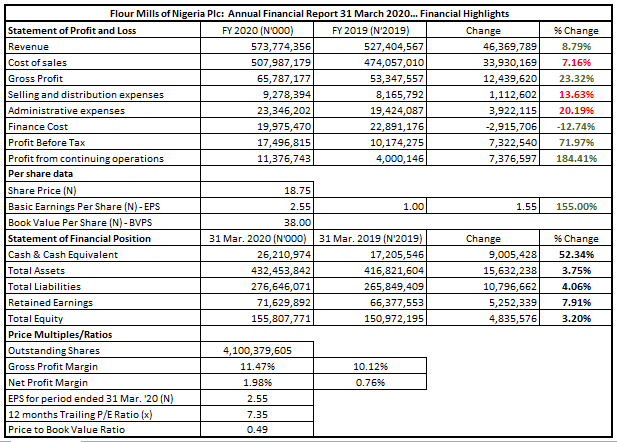 The statements of cash flows for the year ended showed that the company was still generating cash from its operating activities, while carrying on with repayment of its debts and investing in property, plant and equipment. A summary of the cash flows is as follows;
Net cash generated from operating activities declined from N72.239 billion to N66.680 billion.
Net cash used in investing activities declined from N24.989 billion to N13.793 billion.
Net cash used in financing activities declined from N42.011 billion to N39.841 billion.
Flour Mills of Nigeria Plc declared a final dividend of N1.40 per 50 kobo ordinary share, to be paid to shareholders whose names appear in the Register of Members as at the close of business on Friday, 14th August 2020.
The dividend payment is subject to approval of shareholders at the company's annual general meeting that will be held at the Abora Suite, Eko Hotel & Suites Victoria Island Lagos on Thursday 10th September, 2020.
Closure of register: The Register of Shareholders will be closed from Monday 17th August to Friday 21st August 2020.
Qualification Date: Friday, 12th August 2020.
Payment Date: On Monday, 14th September 2020, dividends will be paid electronically to shareholders whose names appear on the Register of Members as at Friday 14th of August 2020 and who have completed the e-dividend registration and mandated the Registrars to pay their dividends directly into their bank accounts.
Further information on the dividend and e-dividend registration can be found through this link.
Flour Mills of Nigeria Plc (The Company) was incorporated in Nigeria as a private limited liability Company on 29 September 1960 and was converted to a public liability company in November 1978. Its registered head office is located at 1 Golden Penny Place, Apapa, Lagos. These financial statements comprise the Company and its subsidiaries (together referred to as the "Group").
The Group is primarily engaged in flour milling, production of pasta, noodles, edible oil and refined sugar, production of livestock feeds, farming and other agro-allied activities, distribution and sales of fertilizer, manufacturing and marketing of laminated woven polypropylene sacks and flexible packaging materials, development of real estate properties for rental, operation of terminals A and B at the Apapa Port, customs clearing, forwarding agents, shipping agents and logistics.
FLOURMILL is a consistent dividend paying company, with a long track record of good financial performance, but the company has endured steep decline in share prices in recent years. Analysts at Investogist do not hold any view on this stock.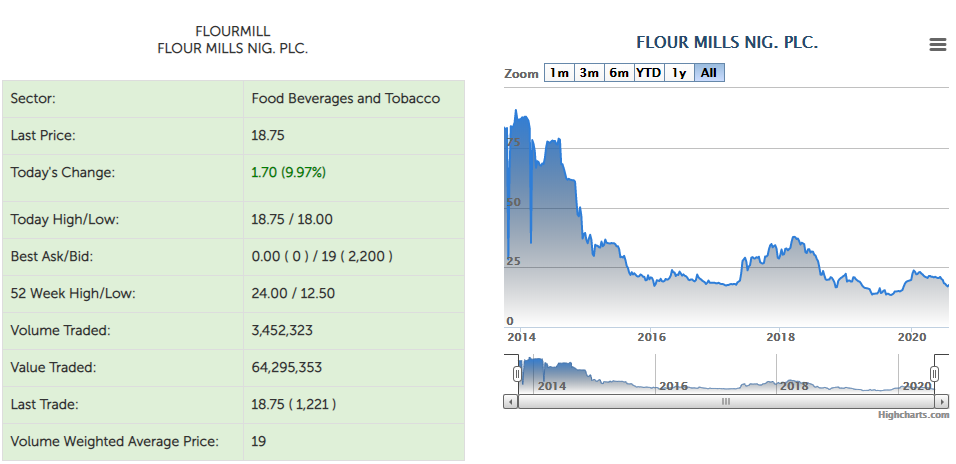 Source: Mytradebook
Written by;
Nnamdi M.