Flour Mills of Nigeria Plc (NGX: FLOURMILL) has completed the acquisition of 71.68% stake in Honeywell Flour Mills Plc (NGX: HONYFLOUR) from Honeywell Group and 5.06% from First Bank of Nigeria Limited.
The consummation of the deal by all parties was done after approval by all relevant regulators, namely the Federal Competition and Consumer Protection Commission ("FCCPC"); Nigerian Exchange Limited ("NGX"); and the Securities and Exchange Commission of Nigeria ("SEC").
An announcement was made on November 22, 2021, regarding their agreement to the transaction which would bring together two businesses with shared goals to create a more resilient national champion in the Nigerian foods industry.
The negotiated deal was done in deals between Chapel Hill Denham Securities Ltd as buyer while Cardinalstone securities, Rencap Securities (Nig.) Ltd (RSNL), Regency Asset Management and FBNQuest Securities were the Sellers. A total of 6,086,381,574 units of HONYFLOUR were exchanged in an off market trade at N4.20 on Friday, 29th April 2022.
Speaking on the approvals that led to the completion of the deal, Mr. Boye Olusanya, Group Managing Director, Flour Mills of Nigeria Plc stated;
"We are delighted that approvals have been received and we are all set to begin execution of this landmark transaction that would positively impact Nigeria's food security architecture and overall competitiveness. We commend and thank all regulatory and approving bodies – FCCPC, SEC and NGX, for supporting this historic vision."

He further noted, "Our combined brands and businesses will mean an expansive scale of food production for both Nigeria and Africa. Together, Flour Mills of Nigeria and Honeywell Flour Mills will be able to achieve rapid growth while maintaining high-quality products serving the evolving needs of our consumers.

The acquisition will further serve as a catalyst for an even stronger stream of innovation that is focused on local content offerings, enabling our customers across the nation to seamlessly benefit from improved access to a wider product range and a robust pan-Nigerian distribution network."
While announcing the deal in November 2021, FLOURMILL stated that it will retain HONYFLOUR'S for the foreseeable future and that minority shareholders of HONYFLOUR will be treated fairly and in line with capital market regulation.
About Flour Mills of Nigeria Plc
Flour Mills of Nigeria Plc was incorporated in Nigeria as a private limited liability Company on 29 September 1960 and was converted to a public liability company in November 1978.
Over the years, the FMN brand grew tremendously from operating as a single business, flour miller, to a vast business group with strategic investments that cover key sectors of the Nigerian economy.
The group's operations can be categorized into four major sectors of Food, Sugar, Agro-allied, and Support services.
It is primarily engaged in flour milling, production of pasta, noodles, edible oil and refined sugar, production of livestock feeds, farming and other agro-allied activities, distribution and sales of fertilizer, manufacturing and marketing of laminated woven polypropylene sacks and flexible packaging materials, development of real estate properties for rental, operation of terminals A and B at the Apapa Port, customs clearing, forwarding agents, shipping agents and logistics.
Its registered head office is located at 1 Golden Penny Place, Apapa Lagos.
FLOURMILL has 4.10 billion outstanding shares and a market capitalization of N135.72 billion.
About Honeywell Flour Mill Plc
Honeywell Flour Mills Plc was initially registered as Gateway Honeywell Flour Mills Limited on 21 June, 1983.
A change in the Company's ownership structure led to a change of the name to Honeywell Flour Mills Limited in June 1995.
The company was converted to a Public Liability Company in 2008, and its shares were listed on the Nigerian Exchange in 2009.
The Company is principally involved in the manufacturing and marketing of wheat based products such as flour, semolina, whole wheat meal, noodles and pasta.
HONYWELL has 7.93 billion outstanding shares and a market capitalization of N29.34 billion.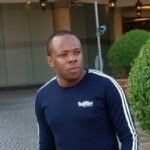 Nnamdi Maduakor is a Writer, Investor and Entrepreneur