Flour Mills of Nigeria Plc (NGX ticker: FLOURMILL) has announced that it has reached an agreement with Honeywell Group to acquire it's 71.69% majority shareholding interest in Honeywell Flour Mills Plc (NGX ticker: HONYFLOUR).
According to the publication seen by Investogist, FLOURMILL has in addition to the agreement with HONYWELL, reached an agreement with the FBN Holdings Group (NGX ticker: FBNH) to acquire its 5.06% equity in HONYWELL.
Upon completion of the acquisitions, which is subject to obtaining all requisite regulatory approvals, FLOURMILL will hold a circa 76.75% equity interest in HONYWELL.
Read also; Nigeria's Q3 2021 GDP: 4.03% growth year-on-year in real terms
With a 76.75% ownership stake, HONYWELL will practically become a subsidiary of Flour Mills of Nigeria Plc.
Commenting on the transaction, Omoboyede Olusanya, Group Managing Director of FLOURMILL said:
"The proposed transaction is part of our global growth strategy; which is aligned with our vision to not only be an industry leader, but also, a national champion for Nigeria in the Food and Agro-allied Industries."
FLOURMILL promised to communicate to the NGX Exchange Limited and the Investing public upon relevant approvals from regulators.
Shareholders and potential investors are advised to exercise caution when dealing in the shares of FLOURMILL and HONYWELL until a further announcement is made.
About Flour Mills of Nigeria Plc
Flour Mills of Nigeria Plc was incorporated in Nigeria as a private limited liability Company on 29 September 1960 and was converted to a public liability company in November 1978.
Over the years, the FMN brand grew tremendously from operating as a single business, flour miller, to a vast business group with strategic investments that cover key sectors of the Nigerian economy.
The group's operations can be categorized into four major sectors of Food, Sugar, Agro-allied, and Support services.
It is primarily engaged in flour milling, production of pasta, noodles, edible oil and refined sugar, production of livestock feeds, farming and other agro-allied activities, distribution and sales of fertilizer, manufacturing and marketing of laminated woven polypropylene sacks and flexible packaging materials, development of real estate properties for rental, operation of terminals A and B at the Apapa Port, customs clearing, forwarding agents, shipping agents and logistics.
Its registered head office is located at 1 Golden Penny Place, Apapa Lagos.
FLOURMILL has 4.10 billion outstanding shares and a market capitalization of N119.93 billion.
About Honeywell Flour Mill Plc
Honeywell Flour Mills Plc was initially registered as Gateway Honeywell Flour Mills Limited on 21 June, 1983.
A change in the Company's ownership structure led to a change of the name to Honeywell Flour Mills Limited in June 1995.
The company was converted to a Public Liability Company in 2008, and its shares were listed on the Nigerian Exchange in 2009.
The Company is principally involved in the manufacturing and marketing of wheat based products such as flour, semolina, whole wheat meal, noodles and pasta.
HONYWELL has 7.93 billion outstanding shares and a market capitalization of N29.50 billion.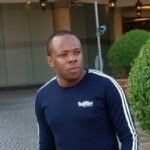 Nnamdi Maduakor is a Writer, Investor and Entrepreneur