A new Covid-19 strain discovered in southern Africa has sent a wave of caution across global financial markets. This has resulted in drops across stocks and futures market, as well as the Oil market.
Yahoo finance reported that MSCI inc.'s Asia-Pacific equity gauge slid to the lowest since early October, with Japan and Hong Kong underperforming and travel shares among the biggest decliners. U.S. and European futures fell and the 10-year Treasury yield dropped to 1.55%.
The World Health Organization (WHO) and scientists in South Africa are studying the recently identified variant, which has been described as very different to previous versions and of serious concern.
The World Health Organization is monitoring a new variant with numerous mutations to the spike protein, scheduling a special meeting Friday to discuss what it may mean for vaccines and treatments, officials said Thursday.
Read also; Nigeria Air: Talks of IPO in the air even as airline is yet to take to the skies
The variant, called B.1.1.529, has been detected in South Africa in small numbers, according to the WHO.
"We don't know very much about this yet. What we do know is that this variant has a large number of mutations. And the concern is that when you have so many mutations, it can have an impact on how the virus behaves," Dr. Maria Van Kerkhove, WHO's technical lead on Covid-19, said in a Q&A that was livestreamed on the organization's social media channels.
The monitoring of the new variant comes as Covid cases surge around the world heading into the holiday season, with the WHO reporting hot spots in all regions and particularly in Europe.
The U.K., Singapore and Israel curbed travel from South Africa and some neighboring countries. Hong Kong confirmed two cases of the strain.
The detection of the strain comes on top of concerns in markets about high inflation and the prospect of quicker exit from ultra-loose monetary settings. Global shares are up about 16% this year, weathering a plethora of risks after investors poured almost $900 billion into equity exchange-traded and long-only funds in 2021 — topping the combined total from the past 19 years.
"It's a scary headline" about the virus variant, so it may have caused a knee-jerk reaction, said Kyle Rodda, an analyst at IG Markets Ltd. He added that "North America off the desks means there's a wall of buyers missing" and that thinner markets make for more pronounced moves.
As at the time of this report, below are the performances of Stocks, Futures and Commodities market.
Source: Investing.com
Commodities: Brent Crude is down by 3.66% to $78.30, West Texas Intermediate crude (WTI) is down by 4.10% to $73.98, while Investors are rallying to Gold, sending its price up by 1.34% to $1,788.30.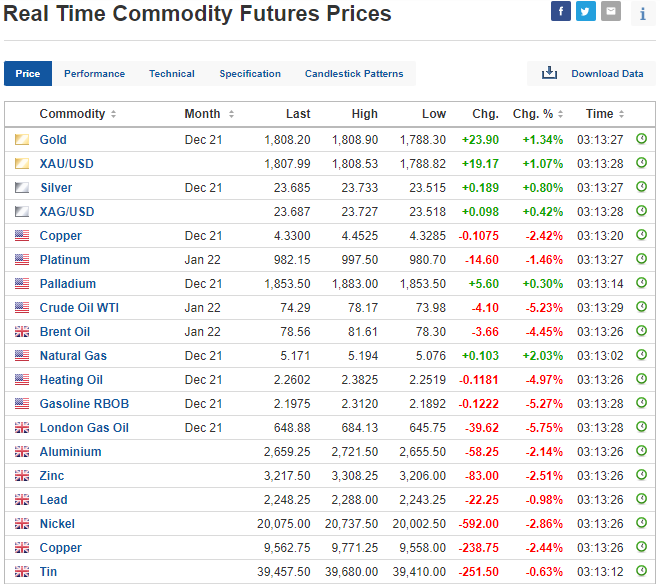 Stock Futures: S&P Too futures (US 500) is losing 2.43% at the time of this report, while DOW Jones Futures (US 30) and Nasdaq futures (US Tech 100) are down by 2.00% and 1.41% respectively.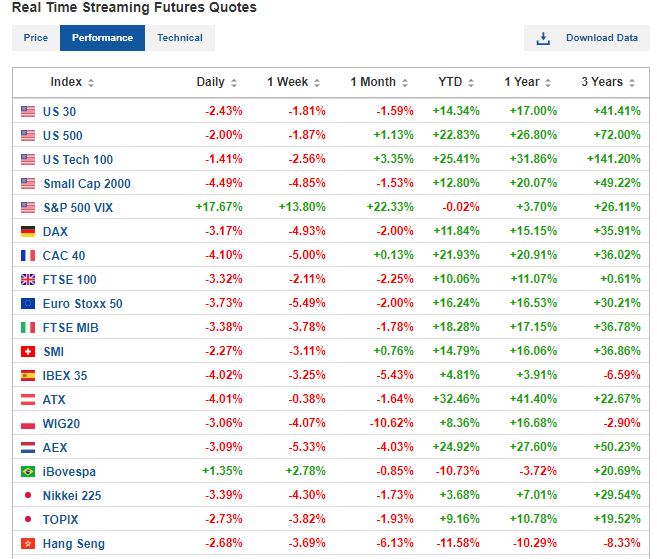 Stock Indices: Almost al open Stock Exchanges have the major indices down at the time of this report. CAC 40 in France is down by 3.38%, FTSE 100 in London is down 2.95%, DAX in Germany is down by 3.02%.
Asian markets all closed in negative territory; Nikkei 225 of Japan closed 2.53% down, Hang Seng in Hong Kong closed 2.61% down, KOPSI in Seoul closed 1.47% down, SZSE Component in Shenzhen China closed 0.34% down, while NIFTY 50 still open in India is currently 2.23% down.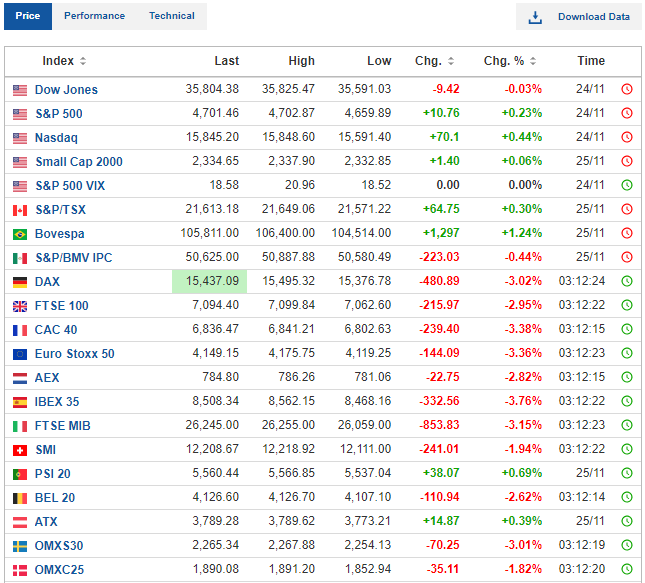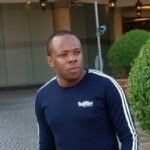 Nnamdi Maduakor is a Writer, Investor and Entrepreneur