The use of Covid-19 fund in Nigeria has aroused anger and criticism among many Nigerians, as it has been unclear how the billions of naira donated or budgeted for Covid-19 is being used in the country.
Civic Hive an extended arm of BudgIT Nigeria in a series of tweets on Monday revealed some details about how some money were spent. BudgIT is Nigeria's civic tech organisation, focused on raising the standards of transparency, citizen engagement & accountability in government, most especially in the use of public finance.
Have you read? Breakdown of 44 roads FG is constructing with N162.5bn Sukuk Funds in the six geopolitical zones
It is beyond comprehension how The Ministry of Health spent N37.064 million on just 1,808 pieces of ordinary face masks, putting the cost of one mask at N20,500 each. as one of the tweets revealed.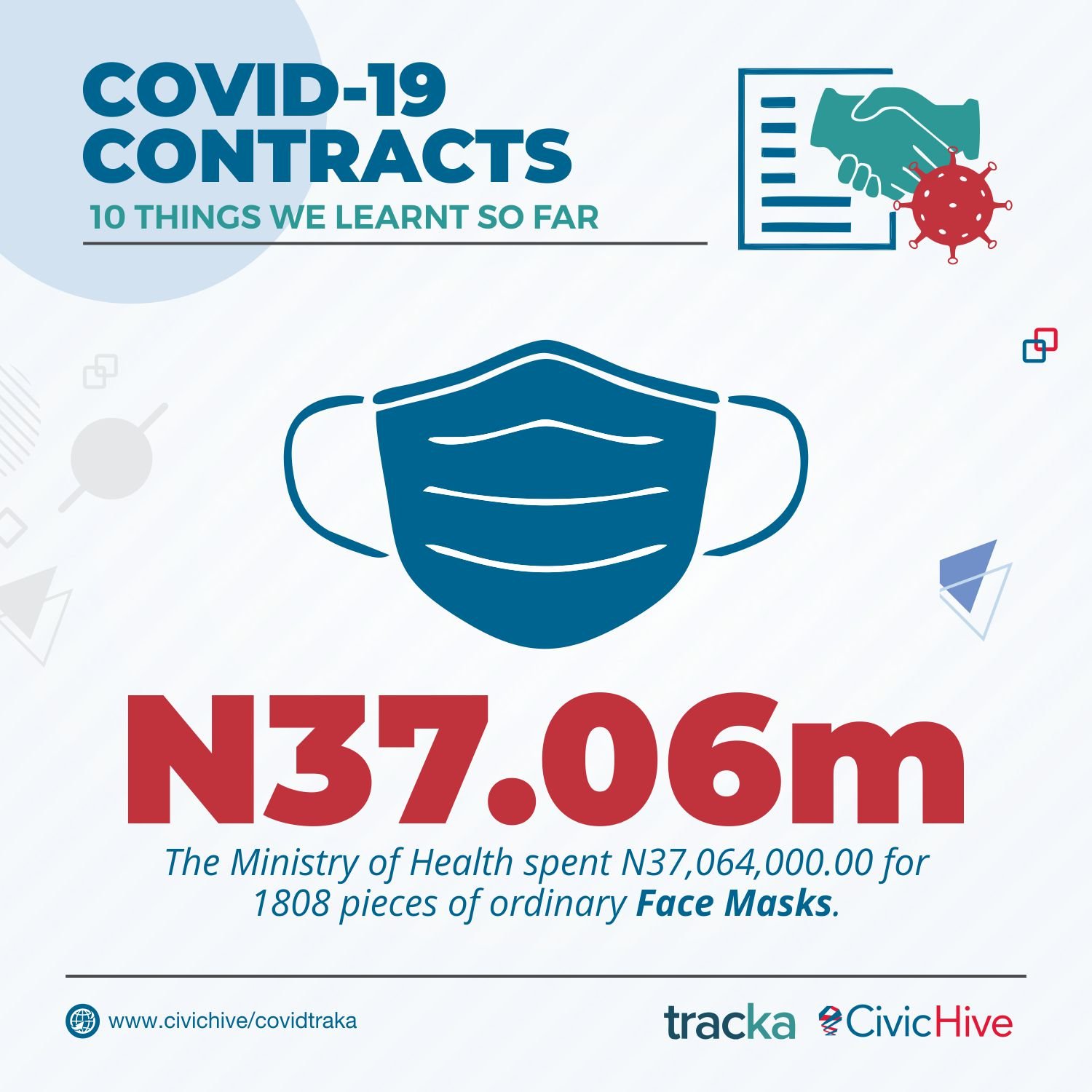 Below is the compilation of the tweets;
"7 MDAs spent a total sum of N3.03bn on Covid-19 contracts" with the following breakdown according the Civic Hive;
Nigeria Centre for Disease Control (NCDC) Abuja – N1.17 billion
Federal Ministry of Health – N970.25 million. The Federal Ministry of Health awarded 15 out of its 29 contracts to Marvelous Mike Press Limited, amounting N444.281 million
Federal Ministry of Environment – N489.14 million
Ministry of Interior, Nigeria Security and Defense Corps – N250.00 million
Federal Medical Centre Abeokuta – N106.72 million
Federal Teaching Hospital Abakaliki – N45.34 million
Obafemi Awolowo University Teaching Hospital – N2.72 million.
"The Nigerian Center for Disease Control (NCDC) Abuja purchased a Prado Jeep worth N39.75 million in the middle of the pandemic without a proper description of what the car will be used for.
"The Ministry of Health spent N37.064 million on just 1,808 pieces of ordinary face masks. This brings the cost of a single mask to approximately N20,500.
"All the projects at the Federal Medical Centre Abeokuta amounting to a sum of N106.715 million with the status of  ongoing and completed does not have a contractor.
"The NCDC Abuja procured PPEs from Future Concerns Ltd for the sum of N49.800 million without proper description. Also the sum of N43.871 million was used to supply 2,440 pieces of Face mask by Aceshamak Logistics Ltd. by NCDC Abuja.
"The supply and installation of 100KVA Sound Proof Power to the Lassa Fever/Covid-19 Centre at the FMC Abakaliki, at the sum of N7.731 million does not have a contractor.
"The Ministry of Interior spent N18.00 million on the purchase of 10,000 millilitres per kilogram for liquid so ap.
"Most of the MDAs involved do not make public their procurement process. We believe this would have been competitive if all projects were made open to all, Civic Hive said. With the way things are, it is nearly impossible to seek transparency and accountability," it concluded.
Compiled by;
Ifunanya Ikueze