According the latest Poverty and Inequality report released by the National Bureau of Statistics, 40.1% of Nigerians are poor. 18% of these poor individuals live in the Urban Areas while 52.1% live in the rural area. The report shows that majority of those under the poverty headcount rate are from the northern part of Nigeria.
The Nigerian Living Standards Survey (NLSS) is the official survey that is the basis for measuring poverty and living standards. Between September of 2018 and October of 2019, the National Bureau of Statistics (NBS) conducted the latest round of the NLSS after a decade.
The survey collected data on household and individual demographics (age, gender, marital status, among others), access to education, health and basic services, employment, assets, and income. The survey is used to measure prevalence of poverty and to estimate a wide range of socio-economic indicators including benchmarking of the Sustainable Development Goals.
"In Nigeria 40.1 percent of total population were classified as poor. In other words, on average 4 out of 10 individuals in Nigeria has real per capita expenditures below N137,430 Naira per year. This translates to over 82.9 million Nigerians who are considered poor by national standards.
"It is important to note, that this number excludes the state of Borno. Because, households samples from Borno, was not representative of the whole state since only households from "accessible" (safe to visit, areas only) were interviewed. Thus, the Borno sample is considered non-random and non-representative".
The national poverty line is calculated by adding food poverty line and cost of non-food basic needs. This results in value of poverty line equal to 137,430 Naira per person per year. The implication of this value is that individuals living in households whose per capita annual consumption expenditures is below 137,430 Naira are considered poor by national standards.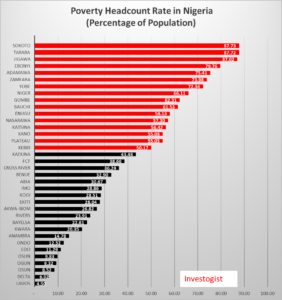 Data Source: National Bureau of Statistics (NBS)
Fourteen out of the top 16 states with high poverty rates are from the North. With Sokoto having the highest rate of 87.73%. It is closely followed by Taraba state and Jigawa state with rates of 87.72% and 87.02% respectively.
The only South Eastern state in the top ten states with high poverty rate is Ebonyi state with a rate of 79.76%. It is notable that there is no South Western state in the top 20 states with high poverty rate.
The national poverty line is based on a welfare aggregate—regionally adjusted per capita consumption expenditures across all households. The headcount ratio defines the proportion of population that is living in the households where the value of per capita total consumption expenditure is below or equal to the poverty line.
Written by:
Ifunanya Ikueze