BUA Cement Plc (NGX: BUACEMENT) has posted a 48.18% YoY growth in profit after tax, for the first quarter period ended 31st March, 2022. The cement manufacturer reported a profit of N33.14 billion for the period.
The Company published its Unaudited Financial Statements on Friday, 22nd April, a day after its Board of Directors met and approved the results.
Income Statement:
Revenue: N96.98 Billion, compared to N61.19 Billion in Q1 2021 (58.50% YoY Growth). All of the reported revenue comes from the sale of cement.
Gross Profit: N48.19 Billion, compared to N29.13 Billion in Q1 2021 (65.43% YoY Growth). While it grew revenue by 58.50%, BUACEMENT was able to keep cost of sales relatively down, with 52.20% increase from N32.05 billion to N48.79 billion.
Selling and Distribution costs: N3.24 Billion, compared to N1.55 Billion in Q1 2021 (107.97% YoY Increase).
Administrative Expenses: N2.75 Billion, compared to N1.94 Billion in Q1 2021 (841.54% YoY Increase). The bulk of the expenditure went to Staff cost (N592.50 million), security and subscription (N233.69 million) and corporate social responsibility (N315.55 million).
Finance Income: N315.63 Million, compared to N2.02 million in Q1 2021 (15,455.99% YoY Growth).
Profit Before Tax: N42.35 Billion, compared to  N24.77 Billion in Q1 2021 (70.97% YoY Growth);
Profit After Tax: N33.14 Billion, compared to N22.36 billion in Q1 2021 (48.18% YoY Growth).
Earnings Per Share: 98kobo (66kobo in Q1 2021).
Balance Sheet:
Total Assets: N783.72 Billion, compared to N728.50 Billion as at 31st December 2021 (7.58% Growth);
Total Liabilities: N352.46 Billion, compared to N330.39 Billion as at 31st December 2021 (6.68% Increase);
Shareholders' Fund: stood at N431.25 Billion, an 8.32% growth from N398.11 Billion as at 31st December 2021.
Retained earnings: stood at N215.06 billion, an 18.22% growth from N181.92 billion as at 31st December 2021.
Cashflow:
Operating activities: N36.41 billion was generated from operating activities, against N154.97 billion generated in Q1 2021.
Investing activities: N17.33 billion was used for investing activities, against N58.09 billion used in Q1 2021.
Financing activities: N3.31 billion was generated from financing activities, against N157.43 billion used in Q1 2021.
Cash and cash equivalents at the end of the period was N84.74 billion (Q1 2021: N62.33 billion).
There was no corporate action announcement following the release of the financial statements.
About the Company
BUA Cement Plc is a company domiciled in Nigeria. The Company was incorporated in Nigeria as a limited liability company on 30 May 2014 and commenced business in August 2015.
The Company was converted from a private limited liability company to a public limited liability company on 16 May 2019, as a prelude to a scheme of merger.
The Company later merged with the defunct Cement Company of Northern Nigeria Plc in a scheme of merger on 23 December 2019 and was listed on the Nigerian Stock Exchange on 9 January 2020.
The address of its registered office is 32, Churchgate Street, Victoria Island, Lagos. The principal activities of the Company are manufacturing and sales of cement to the general public.
These activities are conducted primarily in Nigeria. The majority shareholder of the Company, Abdulsamad Rabiu, CON is the Chairman of the Board of Directors and the
ultimate owner of the Company.
Bua Cement has 33,864,354,060 outstanding ordinary shares and a market capitalization of N2.39 trillion.
According to information on its annual report and financial statements for the year ended 31 December 2021, Rabiu Alhaji Abdulsamad directly held 19.04 billion units of shares (56.24%) of the company. BUA Industries Limited, owned by Rabiu Alhaji Abdulsamad held another 13.45 billion units of shares (40.05%).
BUA Cement Plc is ultimately owned by Alhaji Abdulsamad Rabiu, CON.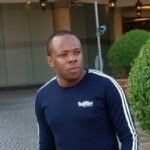 Nnamdi Maduakor is a Writer, Investor and Entrepreneur