Chemical and Allied Products Plc (NGX: CAP) has posted a profit after tax of N2.08bn for the 2022 financial year, 85.95% Year-on-Year.
The UAC of Nigeria subsidiary which prides itself as Nigeria's leading paints and coatings company published its unaudited financial results for the fourth quarter and twelve months ended 31 December on Friday, January 27th.
Commenting on the results, Managing Director, Bolarin Okunowo, stated:
"Our strong performance in the fourth quarter, is proof of our resilience as a business. Although the macroeconomic environment has been challenging, we continue to deliver on our key objectives of providing high quality products and services that delight our customers. Going forward, we will consolidate on the positive momentum built from investments in our people, brands as well as operational and distribution
infrastructure to continue to meet and exceed our customers' expectations".
An analysis of the results by Investogist shows that the company was able to achieve the high profit group by improving its operational efficiency.
There was a 35% growth in revenue, and a corresponding 67% growth in Gross Profit and an improved Gross Margin from 40% to 32%.
Analysis of Statement of Profit or Loss and Other Comprehensive Income
Gross Earnings: CAP reported a revenue of N19.20bn, a 35.20% growth on the N14.20bn revenue it booked in 2021. N19.09bn of the revenue came from sale of paint products, while the remaining N111.78mn was revenue from services. Having achieved a 35.20% revenue growth, the company was able to keep rise in its cost of sales at 20.02%; N11.58bn against N9.64bn spent in the preceding year, Thus, Gross profit was 67.33% higher at N7.6bn (2021: N4.55bn).
Other Income: The amount of money earned from other sourced dropped by 32.19%, from N375.29mn to N254.50mn. Of the other income, the major income where N149.3mn from management fees, and N95.41mn from the sale of scrap items.
Administrative Expenses: The company's administrative expenses went up by 25.61%, rising from N2.39bn to N3.00bn.N1.91bn was spent on employee benefits, with N1.83bn going to wages and salaries, while N80,70mn went into defined pension contribution plans. While Management earned N1.36bn of the total employee spend, Staff got N547.63mn. As at the end of 2022, CAP had a total of 253 employees; 118 in management while 135 were ordinary staff.
Selling and distribution expenses: CAP spent N1.91bn to sell and distribute its products, 94.30% more than the N987.82mn it spent on the same purpose in the 2021 financial year. A bulk of this amount, N1.14bn was spent on marketing, communication & entertainment (2021: N435.41mn)
Profit before tax: CAP posted a profit before taxation of N3.09bn, 79.02% higher than the N1.72bn it reported for the 2021 financial year. The company went on to pay a total of N1.00bn in taxation (2021: N505.89mn). Of the tax paid, N927.76mn was corporate tax at the rate of 30%, while N77.31mn was education tax at 2.5% of assessable profit.
Profit after tax: The profit after tax grew from N1.12bn in 2021 to N2.08bn in 2022, an 85.95% increase.
Earnings per share: CAP posted an Earnings per Share of N2.56 for the period under review.
Analysis of Statement of Financial Position
Cash and cash equivalents: The cash and cash equivalent held by CAP as at December 2022 went up 46.09% to N2.57bn when compared with what it had as at 31st December 2021, at the time it held N2.57bn.
Total Assets: The company's assets went up by 14.05%, from N12.11bn as at 31st Dec. 2021 to N13.81n. The company's account and other receivables stood at N707.16mn (31 Dec. 2021: N551.59).
Total Liabilities: The total liabilities rose by 1.06% to N7.78bn, from the N7.70bn liabilities on its books as at 31 Dec. 2021. The bulk of the liabilities was the company's trade and other payables which stood at N4.35bn (31 Dec. 2021: N5.66bn).
Shareholder's fund: The shareholder's fund grew by 36.74% from N4.40bn to N6.03bn as at 31 December 2022. The retained earnings, the major component of the Shareholder's fund rose by similar percentage, growing by 36.41% to N4.13bn.
Analysis of Statement of Cash Flow
Operating activities: CAP generated N1.53bn from operations (N1.27bn was used in the preceding period).
Investing activities: It used N754.65mn in investing activities, most of which was used for the purchase of property, plant and equipment (N395.37mn was used in the preceding period).
Financing activities: N401.88bn was generated from financing activities, as a result of the N1.38bn import finance facility inflow (N1.50bn was used in financing activities in the preceding period).
Going Concern: The directors confirmed in the report that nothing has come to their attention to indicate that the company will not remain a going concern for at least twelve months from the date of this financial statement.
About the company
Chemical and Allied Products Plc is a company incorporated in Nigeria. The Company is involved in the manufacturing and sale of paints. The address of the registered office is 2 Adeniyi Jones
Avenue, Ikeja, Lagos.
CAP is a subsidiary of UAC of Nigeria Plc, and is the technological licensee of AkzoNobel for Nigeria (AkzoNobel acquired ICI in 2008).
CAP Plc evolved from British multinational Imperial Chemical Industries Plc, which formalized its Nigeria operations in 1957 under ICI Exports Limited. In 1965, ICI Exports Limited changed its name to ICI Nigeria Limited and in 1968 it subsumed the paints company.
Following the promulgation of the first and second indigenisation Decrees in 1972 and 1977, ICI Nigeria Limited at first sold 40 percent and later 60 percent of its share capital to the Nigerian public, and went further to change its name by a special resolution of the shareholders to Chemical and Allied Products Limited (CAPL) in the spirit of indigenization. In 1991, the 'Limited' appellation was dropped for 'Plc' in compliance with the provision of the Companies and Allied Matters Act of 1990.
In 1992, ICI Nigeria Limited finally disposed of its minority 40% shareholding in CAP Plc when it sold 35.7% of the equity to UAC of Nigeria Plc and the rest to the Nigerian public on the floor of the Nigeria Stock Exchange. Currently, UAC of Nigeria Plc holds about 57.85% of the equity.
In November 2013, the company was awarded the ISO 14001:2015 certification on Environmental Management system (EMS).
In July 2021, CAP Plc successfully completed a merger with Portland Paints and Products Nigeria Plc., another leading paints company with decades of experience in manufacturing, distributing and marketing a wide array of Decorative, Automotive and industrial Paints and Marine and Protective Coatings that support the building, construction and Oil and Gas industry in Nigeria.
Today, CAP Plc fully operates in the coatings business and fully provides a wide range of quality products and services. We operate within the premium and standard segments of the Paints and Coatings market with flagship brands such as Dulux, positioned in the premium segment, Sandtex in the standard segment and Caplux for Surface Preparation products and Hempel, for industrial coatings.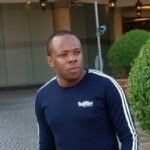 Nnamdi Maduakor is a Writer, Investor and Entrepreneur