AXA Mansard Plc (NGX: MANSARD) has announced an interim dividend of N0.06 per ordinary share for the nine months period ended 30 September, 2022.
The dividend announcement was contained in a corporate actions announcement released by the Insurer to the Nigerian Exchange Limited.
Also read; Nigerian Breweries Plc to pay N3.29 bn interim dividend for nine months 2022
According to the announcement, an Interim Dividend of 6k per N2.00 ordinary share, subject to appropriate withholding tax and approval from NAICOM will be paid to shareholders whose names appear in the Register of Members as at the close of business on November 23rd 2022.
AXA Mansard Plc had announced and paid a dividend of 25 kobo per ordinary share to its Shareholders on May 12, 2022 for the 2021 financial year ended 31 December 2021.
On December 9. 2022, interim dividends will be paid electronically to shareholders whose names appear on the Register of Members as at November 23rd 2022, and who have completed the e-dividend registration and mandated the Registrar to pay their dividends directly into their Bank accounts.
Shareholders who are yet to complete the e-dividend registration are advised to download the Registrar's E-Dividend Mandate Activation Form, https://datamaxgroup.ng/datamaxregistrars/wpcontent/uploads/2020/01/emnadateform-main.pdf, which is also available on their website: www.datamaxgroup.ng, complete and submit to the Registrar or their respective Banks.
Shareholders with dividend warrants and share certificates that have remained unclaimed, or are yet to be presented for payment or returned for validation are advised to complete the e-dividend registration or contact the Registrar.
AXA Mansard's registrar is;
Datamax Registrars Limited
2C, Gbagada Expressway, By Beko Ransome Kuti Park, Lagos,
Tel: 07064000751,07064000752
Email: datamax@datamaxregistrars.com
Website: www.datamaxgroup.ng
MANSARD was incorporated on June 23, 1989 and got listed on the Nigerian Exchange Limited on November 19, 2009.
It has 9,000,000,000 outstanding shares and a market capitalization of N14.67 billion. At the end of the trading on Friday, 28th October 2022, the share price of MANSARD stood at N1.63.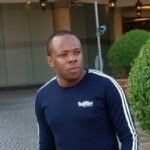 Nnamdi Maduakor is a Writer, Investor and Entrepreneur