Recently The Nigerian Stock Exchange completed its demutualization exercise and a new holding company, The Nigerian Exchange Group (NGX Group) Plc emerged.
The Holdco emerged with three operating subsidiaries duly registered at the CAC, namely: Nigerian Exchange Limited (NGX Limited), the operating exchange; NGX Regulation Limited (NGX REGCO), the independent regulation company; and NGX Real Estate Limited (NGX RELCO), the real estate company.
The Nigerian Exchange currently have more than 160 listed companies on its books, many had been listed and subsequently delisted for several reasons.
According to Investopedia,
Delisting is the removal of a listed security from a stock exchange. The delisting of a security can be voluntary or involuntary and usually results when a company ceases operations, declares bankruptcy, merges, does not meet listing requirements, or seeks to become private.
The Nigerian Exchange defined the term as;
The term "delisting" of securities means removal of listed securities from The Exchange.
Consequently, the securities of an affected Issuer will no longer be traded on The Exchange and the Issuer's name will be removed from the Daily Official List of The Exchange. The decision to delist a security is taken only after thorough and careful analysis. It is not a decision arrived at without full consideration of the interests of all stakeholders involved.
The shares of a company (issuer) can be delisted voluntarily, wherein the Issuer that intends to de-list its shares from the Daily Official List of The Exchange shall convene a meeting of its Board of Directors, at which the Board shall consider a recommendation to the shareholders of the Issuer that the Issuer should be voluntarily de-listed, and pass a resolution in that regard.
The shares of a company can also be delisted by a means known as regulatory delisting, which is literally a delisting at the instance of The Exchange. It is the ultimate sanction that can be imposed on an Issuer for persistent non-compliance with the Listings Rules of The Exchange, or for failing to meet the financial requirements of listing on The Exchange.
Have you been wondering what happened to the shares of that company that you no longer hear about on the Nigerian Exchange? Below is the list of all the companies that has been delisted from the Nigerian Exchange.
| Company | Date Delisted | Reason for Delisting |
| --- | --- | --- |
| A.G. LEVENTIS (NIGERIA) PLC | 12-Jul-05 | Voluntary |
| ABA TEXTILE MILLS PLC | 2009 | Regulatory: NSE |
| ABOSELDEHYDE LABORATORIES PLC | 2009 | Regulatory: NSE |
| ABPLAST PLC | 2012 | Regulatory: NSE |
| ACEN INSURANCE PLC | 2008 | Regulatory: NAICOM |
| ADSWITCH PLC | 18-May-16 | Regulatory: NSE |
| AFPRINT PLC | 2010 | Regulatory: NSE |
| AFRIBANK PLC | 2011 | Nationalised: CBN |
| AFRICAN PAINTS (NIGERIA) PLC | 6-Apr-18 | Regulatory: NSE |
| AFRIK PHARMACEUTICALS PLC | 6-Apr-18 | Regulatory: NSE |
| AFROIL PLC | 24-Nov-14 | Regulatory |
| ALBARKA AIRLINE PLC | 2011 | Regulatory: NSE |
| ALUMACO PLC | 18-May-16 | Regulatory: NSE |
| AMICABLE INSURANCE PLC | 2008 | Regulatory: NAICOM |
| ANINO INTERNATIONAL PLC | 12-Oct-20 | Regulatory: NSE |
| ASABA TEXTILE MILLS PLC | 2009 | Regulatory: NSE |
| ASHAKA CEMENT PLC | 4-Jul-17 | Merged with Lafarge Africa Plc |
| ATLAS NIGERIA PLC | 2008 | Regulatory: NSE |
| AVIATION DEVELOPMENT COMPANY PLC | 2008 | Regulatory: NSE |
| AVON CROWN CAPS AND CONTAINERS PLC  | 18-Sep-17 | Voluntary    |
| BAICO INSURANCE PLC | 2008 | Regulatory: NAICOM |
| BANK PHB PLC | 2011 | Nationalised: CBN |
| BCN PLC | 2009 | Regulatory: NSE |
| BECO PETROLEUM PRODUCTS PLC | 2-May-17 | Regulatory: NSE |
| BEVERAGES (WA) NIGERIA PLC | 2008 | Regulatory: NSE |
| BHN Plc | 2007 | Regulatory |
| BIG TREAT PLC | 24-Nov-14 | Regulatory |
| CEMENT COMPANY OF NORTHERN NIGERIA PLC | 9-Jan-20 | Merged with BUA Cement Plc(formerly OBU Cement Company Plc) |
| CERAMICS MANUFACTURING COMPANY PLC | 2008 | Regulatory: NSE |
| CFAO NIGERIA PLC | 2007 | Voluntary |
| CHRISTLIEB PLC | 2009 | Regulatory: NSE |
| CONFIDENCE INSURANCE PLC | 2012 | Licence Withdrawn |
| CONTINENTAL REINSURANCE PLC | 17-Jan-20 | Voluntary |
| COSTAIN (W.A) PLC  | 1-Dec-16 | Regulatory: NSE |
| CRUSADER INSURANCE NIGERIA PLC | 13-May-13 | Merged with Custodian & Allied Insurance Plc |
| DAILY TIMES OF NIGERIA PLC | 2011 | Regulatory: NSE |
| DANGOTE FLOUR MILLS PLC | 18-Nov-19 | Voluntary |
| DIAMOND BANK PLC | 1-Apr-19 | Merged with Access Bank Plc |
| DUMEZ NIGERIA PLC | 2002 | Regulatory: NSE |
| ECOBANK NIGERIA PLC | 2011 | Absorbed by ETI: Now Ecobank Nigeria Ltd |
| ENPEE PLC | 2008 | Voluntary |
| EPIC DYNAMIC PLC | 2009 | Regulatory: NSE |
| FAMAD PLC | 2009 | Regulatory: NSE |
| FERDINAND OIL MILLS PLC | 2009 | Regulatory: NSE |
| FINBANK PLC | 2011 | Merged with FCMB Plc |
| FIRST ALUMINIUM NIGERIA PLC | 31-Jul-19 | Voluntary |
| FIRST CAPITAL INVESTMENT & TRUST PLC | 2011 | Regulatory: NSE |
| FLEXIBLE PACKAGING PLC | 2011 | Regulatory: NSE |
| FOOTWEAR MANUFACTURING PLC | 2009 | Regulatory: NSE |
| FOREMOST DAIRIES PLC | 2011 | Regulatory: NSE |
| FORTIS MICROFINANCE BANK PLC | 21-Aug-19 | Regulatory: NSE |
| G. CAPPA PLC | 18-May-16 | Regulatory: NSE |
| GREAT NIGERIA INSURANCE PLC | 25-Jan-19 | Voluntary  |
| GROMMAC INDUSTRIES PLC | 2008 | Regulatory: NSE |
| HALLMARK PAPER PRODUCT PLC | 2012 | Regulatory: NSE |
| IHS NIGERIA PLC | 6-May-15 | Voluntary |
| IMPRESIT BAKOLORI PLC | 2002 | Voluntary |
| INCAR PLC | 2010 | Voluntary |
| INTERCONTINENTAL BANK PLC | 2011 | Merged with Access Bank Plc. |
| INTRA MOTORS NIG. PLC | 2008 | Regulatory: NSE |
| INVESTMENT & ALLIED INSURANCE PLC | 18-May-16 | Regulatory: NSE |
| IPWA PLC | 18-May-16 | Regulatory: NSE |
| JOS INTERNATIONAL BREWERIES PLC | 18-May-16 | ?Regulatory: NSE |
| KRABO NIGERIA PLC | 2011 | Regulatory: NSE |
| LENNARDS (NIGERIA) PLC | 1-Dec-16 | Regulatory: NSE |
| LIZ-OLOFIN & COMPANY PLC | 2009 | Regulatory: NSE |
| MAUREEN LAB. PLC | 2008 | Regulatory: NSE |
| MNET/SUPERSPORT | 6-Apr-15 | Regulatory |
| MTECH COMMUNICATIONS PLC | 2-May-17 | Regulatory: NSE |
| MTI PLC | 2-May-17 | Regulatory: NSE |
| NAMPAK PLC | 2011 | Voluntary |
| NAVITUS ENERGY PLC | 1-Dec-16 | Regulatory: NSE |
| NEWPAK PLC | 2011 | Regulatory: NSE |
| NEWREST ASL NIGERIA PLC | 13-May-19 | Voluntary  |
| NIGERCEM PLC | 2011 | Regulatory: NSE |
| NIGERIA WIRE & CABLE PLC | 13-Jul-15 | Regulatory: NSE |
| NIGERIAN BAG MANUFACTURING COMPANY PLC | 11-Apr-13 | Merged with Flour Mills Nigeria Plc |
| NIGERIAN BOTTLING COMPANY PLC | 2011 | Voluntary |
| NIGERIAN LAMPS PLC | 2008 | Regulatory: NSE |
| NIGERIAN ROPES PLC | 1-Dec-16 | Regulatory: NSE |
| NIGERIAN SEWING MACHINE MANUFACTURING PLC | 13-Jul-15 | Regulatory: NSE |
| NIGERIAN TEXTILE MILLS PLC | 2008 | Voluntary |
| NIGERIAN WIRE INDUSTRIES PLC | 3-Jun-13 | Regulatory: NSE |
| NIGERIAN YEAST & ALCOHOL MANUFACTURING PLC | 2008 | Regulatory: NSE |
| OASIS INSURANCE PLC | 31-Dec-14 | Acquired by FBN Life Insurance |
| OCEANIC BANK PLC | 2011 | Merged with ETI |
| OKITIPUPA OIL PALM PLC | 2011 | Regulatory: NSE |
| OLUWA GLASS COMPANY PLC | 2009 | Regulatory: NSE |
| ONWUKA HI-TEK. PLC | 2008 | Regulatory: NSE |
| P.S MANDRIDES & COMPANY PLC | 1-Dec-16 | Regulatory: NSE |
| PAINTS AND COATINGS MANUFACTURERS NIGERIA PLC | 17-Aug-18 | Voluntary |
| PINNACLE POINT GROUP | 24-Nov-14 | Regulatory |
| POLY PRODUCTS PLC | 6-Jul-05 | Voluntary |
| PREMIER BREWERIES PLC | 1-Dec-16 | Regulatory: NSE |
| RIETZCOT NIGERIA PLC | 2008 | Regulatory: NSE |
| ROKANNA PLC | 18-May-16 | Regulatory: NSE |
| SECURITY ASSURANCE PLC | 2008 | Regulatory: NAICOM |
| SEVEN-UP BOTTLING COMPANY PLC | 5-Mar-18 | Voluntary  |
| SKYE BANK PLC | 21-Aug-19 | Regulatory: NSE |
| SPRING BANK PLC | 2011 | Nationalised: CBN |
| STARCOMMS PLC | 24-Nov-14 | Regulatory |
| STOCKVIS PLC | 13-Jul-15 | Regulatory: NSE |
| SUN INSURANCE PLC | 2008 | Regulatory: NAICOM |
| TATE INDUSTRIES PLC | 2008 | Regulatory: NSE |
| TROPICAL PETROLEUM PLC | 2011 | Regulatory: NSE |
| UDEOFSIN GARMENT PLC | 2012 | Regulatory: NSE |
| UNITED NIGERIA TEXTILE PLC | 2011 | Voluntary |
| UNIVERSAL TRUST BANK PLC | 2005 | Merged with Union Bank of Nigeria Plc |
| UTC PLC | 2-May-17 | Regulatory: NSE |
| VONO PRODUCTS NIGERIA PLC | 23-May-16 | Merged with Vitafoam Nigeria Plc |
| WEST AFRICAN ALUMINIUM PLC | 3-Jun-13 | Regulatory: NSE |
| WEST AFRICAN GLASS INDUSTRIES PLC  | 18-May-16 | Regulatory: NSE |
| WIGGINS TEAPE NIGERIA PLC | 2011 | Regulatory: NSE |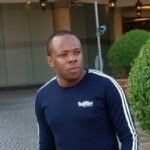 Nnamdi Maduakor is a Writer, Investor and Entrepreneur