President Bola Ahmed Tinubu has approved the nomination of Dr. Olayemi Michael Cardoso to serve as the new Governor of the Central Bank of Nigeria (CBN), for a term of five years at the first instance, pending his confirmation by the Nigerian Senate.
Also read; Fidelity Bank Plc completes acquisition of Union Bank Plc UK
The President also approved the nomination of four new Deputy Governors of the apex bank, for a term of five years at first instance, pending their confirmation by the Nigerian Senate. The nominees are as listed below:
Mrs. Emem Nnana Usoro
Mr. Muhammad Sani Abdullahi Dattijo
Mr. Philip Ikeazor
Dr. Bala M. Bello
The Special Adviser to the President on Media & Publicity confirmed the nominations in a statement released earlier on Friday.
Section 8(1) of the Central Bank of Nigeria Act, 2007, vested the authority to appoint the Governor and four Deputy Governors for the Central Bank of Nigeria in the President of the Federal Republic.
Punch in a report on Friday highlighted the things you need to know about the new CBN governor, amongst which are;
Olayemi Cardoso, a Lagosian, grew up in Lagos and attended Corona School Ikoyi and St. Gregory's College all in Lagos for his primary and secondary education, respectively.
His father, Felix Bankole Cardoso, was the first indigenous Accountant-General of the Federation of Nigeria in 1963; and, the first indigenous Vice Chairman and Managing Director of Barclays Bank of Nigeria shortly after joining the bank in 1972. Under his leadership, Barclays successfully transformed into Union Bank of Nigeria, a wholly-owned Nigerian entity
He completed his undergraduate studies upon obtaining a Bachelor's degree in Managerial and Administrative Studies from Aston University in 1980.
He later furthered his education at the Harvard Kennedy School of Government, earning a Master's degree in Public Administration in 2005 as a Mason Fellow.
In recognition of his outstanding achievements in the private and public sectors, Cardoso was granted a Doctorate in Business Administration (DBA) (honoris causa) by Aston University in 2017. He is also esteemed as a Fellow of the Chartered Institute of Stockbrokers.
Olayemi Michael Cardoso is a Nigerian banker, chartered stockbroker and public policy expert.
He has served for over four decades in the public, private and development sectors as a leader and innovator.
Among his most impactful roles are: Commissioner in the Lagos State Ministry of Economic Planning and Budget; Chairman of the board of the African Venture Philanthropy Alliance and, most recently, Chairman of Citibank Nigeria Ltd for 12 years, until his resignation in 2022.
Cardoso is a dedicated family man. He is married with five children and three grandchildren. His parents were descendants of Brazilian returnees and came from prominent families from Popo Aguda.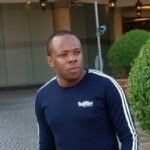 Nnamdi Maduakor is a Writer, Investor and Entrepreneur