Axa Mansard Insurance Plc (NSE – MANSARD) is set to raise its authorized share capital to N18 billion from N5.25 billion, in its bid to meet the National Insurance Commission (NAICOM) requirements for minimum paid-up capital for composite insurers, by the end of September 2021.
The company plans to achieve this by implementing the "Recapitalisation Plan" as it has enough reserves across retained earnings, share premium, and other capital reserves to meet the regulatory capital requirements for composite insurers.
In line with the recapitalization plan, the company will create N25.5 billion additional ordinary shares of 50 kobo each.
Axa Mansard also plans to issue the 25.5 billion ordinary shares as fully paid bonus shares to its shareholders, whose names appear on the register of members as at 23 November 2020. The share bonus will be issued at the ration of 17 new ordinary shares for every 7 shares held as the qualification date.
Read also: Half Year 2020: Golden Guinea Breweries Plc returns to profitability
The company will discuss these among other things including share "consolidation" (4 shares held into 1 share) with an effective date of December 31, 2020, during its upcoming Extraordinary General Meeting, scheduled on December 7, 2020, according to the filing with Nigerian Stock Exchange (NSE), signed by Omowunmi Mabel Adewusi Company Secretary
The filing read in part: "Notice is hereby given that an Extraordinary General Meeting of AXA MANSARD INSURANCE PLC will hold at the Oriental Hotel, No 3, Lekki Road, Victoria Island, Lagos State, on Monday, December 7, 2020, at 10:00 a.m. to transact the following business:
"That the authorised share capital of the Company be and is hereby increased from N5,250,000,000 (Five Billion, Two Hundred and Fifty Million Naira) to N18,000,000,000 (Eighteen Billion Naira) by the creation and addition thereto of 25,500,000,000 (Twenty Five Billion Five Hundred Million) ordinary shares of N0.50K each.
"That the newly created 25,500,000,000 (Twenty Five Billion Five Hundred Million) ordinary shares of N0.50K each be issued and allotted as fully paid bonus shares to the Company's shareholders standing in the register of members of the Company as of 23 November 2020 (the Relevant Date); in the proportion of Seventeen (17) new ordinary shares for every seven (7) ordinary shares held as at the Relevant Date ("the Bonus shares").
"That the nominal value of the issued ordinary shares of the Company be and is hereby altered from 50 kobo each to N2.00K each, by the consolidation of every four (4) shares held by each shareholder into one (1) share with effect from December 31, 2020."
The National Insurance Commission ("NAICOM") by a circular dated 20 May 2019, introduced new capital requirements for insurance companies in Nigeria, with a deadline of 30 June 2020.
This was followed by another circular dated 30 December 2019, extending the deadline for the recapitalisation to 31 December 2020.
Following the incidence of the COVID-19 pandemic, NAICOM carried out another revision of the recapitalisation deadline, with a decision to segment and extend the recapitalisation process into two phases as follows: st Phase 1 – 50% of the Minimum capital for insurance companies must be met by 31 December 2020; and Phase 2 – all insurance companies to comply with the approved minimum paid-up capital not later than 30 September 2021.

Source: Axa Mansard
In line with the NAICOM definition, the components of minimum paid-up capital, include
Existing paid-up share capital;
Cash payment for new shares;
Retained earnings (capitalised);
Payment in kind (e.g. properties, T-Bills, Shares, Bonds) for new shares issued, which must be converted to cash not later than three (3) months to the recapitalisation deadline; and
Share premium (capitalised).
AXA Mansard's paid-up capital as at its December 2019 audited accounts is N5.25bn (see audited balance sheet as at 31 December 2019 below), and the Company will be securing an additional N12.75bn to meet the new capital requirement of N18bn for composite insurance companies.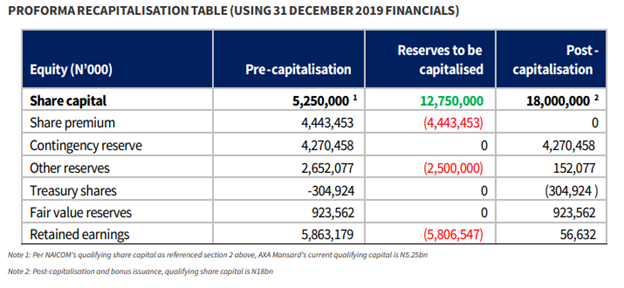 Source: Axa Mansard.
At the close of trading on Tuesday, the equity price rose by 6.36% to N2.34 per share. YTD the share price is up by 18.18%.
By: Ifunanya Ikueze