After an incredible run in May that saw the second quarter performance of the Nigerian Stock Exchange (NSE) All-Share Index go up by as much as 18.44%, the first week of trading in June started on a negative footing.
The NSE All-Share Index and Market Capitalization both depreciated by 1.00% and 0.90% to close the week at 25,016.30 and N13.050 trillion respectively.
A total turnover of 1.469 billion shares worth N23.553 billion in 22,911 deals were traded this week by investors on the floor of the Exchange, in contrast to a total of 1.255 billion shares valued at N13.501 billion exchanged hands last week in 20,554 deals.
Read; CFDs Review June 1, 2020 to June 5, 2020: Forex, Indices and Commodities
This turnover volume and value shows a waning activity level, despite the fact that there was 5 trading days in the week, compared to 3 trading days in the preceding week.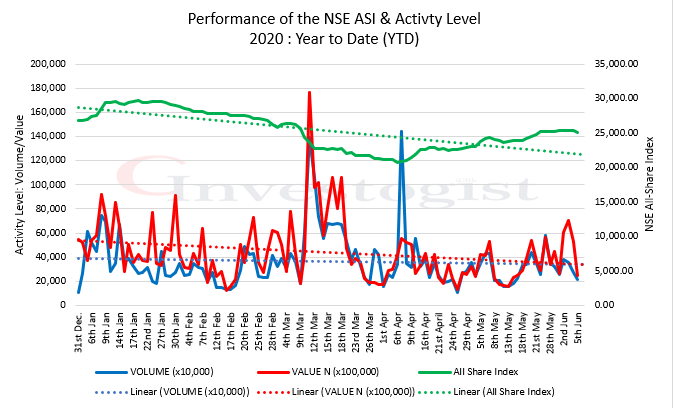 Fig 1: Nigerian Stock Exchange ASI Versus Activity Level, YTD
The Financial Services industry (measured by volume) as usual led the activity chart with 861.775 million shares valued at N8.545 billion traded in 11,647 deals; thus contributing 58.66% and 36.28% to the total equity turnover volume and value respectively.
Trading in the Top Three Equities namely FBN Holdings Plc, Guaranty Trust Bank Plc and Zenith Bank Plc. (measured by volume) accounted for 456.576 million shares worth N6.940 billion in 5,921 deals, contributing 31.08% and 29.47% to the total equity turnover volume and value respectively.
Going into the new week, the cautious activity of investors on the local bourse as typified by the activity level will likely continue. June is the last month of the second quarter, after which companies will start releasing their First Half (Second Quarter) earnings result.
Read also; 8 Ways to Save Money in Financial Difficulty
Investors will have this on their mind as they buy or sell stocks this month, the reason is that the impact of the Covid-19 lockdown and its ensuing business disruptions will be reflected in the forthcoming financial reports.
While there maybe a widespread sell off partly due to bad performances, and partly due to profit taking by Investors after the incredible bullish run that started in April.
Starting from this month, Investogist analysts will be publishing a stock pick for the week, with a BUY, HOLD, or SELL classification. All companies that make our 10-stock list are companies with consistent financial performances with good dividend payout history, it is not made based on the size of the company's market capitalization.
As this is our first stock pick publication, we would like to clarify that "HOLD" as used here is our recommendation to neither buy nor sell the stock. The HOLD rating is better than SELL, but worse than BUY, meaning that investors with existing long positions shouldn't sell but investors without a position shouldn't purchase either.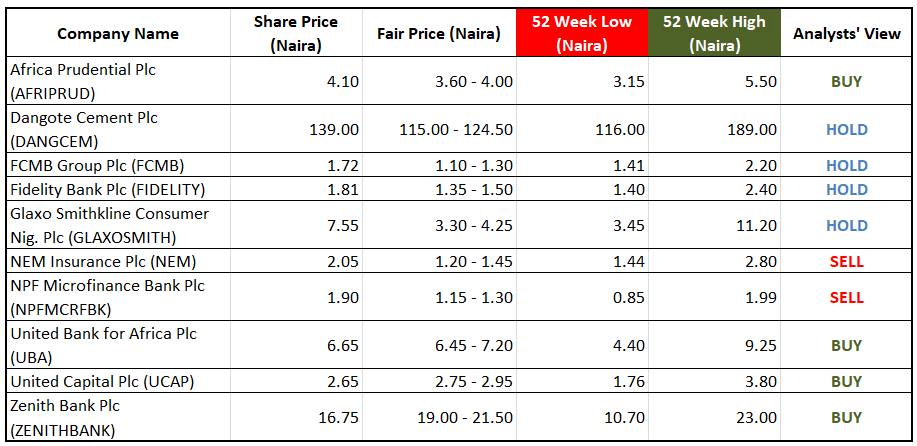 Table 1: Stock Pick for the week ahead; 8th June to 12th June 2020
We have considered a HOLD for GLAXOSMITH because of the potential for the pharmaceutical industry in the wake of the Covid-19 Pandemic. The Federal Government of Nigeria is providing support to the industry to boost the country's ability to meet the nation's medical supply needs.
Read more; AFDB Approved $288.5 million Loan for Nigeria
Although Glaxo Smithkline Consumer Nig. Plc has outsourced its manufacturing in Nigeria to Fidson Healthcare Plc, they remain a key stakeholder in the Pharmaceutical sector in Nigeria. The parent company in the UK is also at the forefront of the search for a Covid-19 vaccine, should they be successful, Glaxo Nigeria is poised to be the pioneer vaccine supplier for the West African region.
None of the companies in our stock pick for the week ahead was found on the top ten gainers or losers for the preceding week.
Written by;
Nnamdi M.
Disclaimer: Any person accessing this information and considering potential investment opportunities featured here should make their own commercial assessment of an investment opportunity after seeking the advice of an appropriately authorized or regulated financial advisor. This information should not be construed as advice or a personal recommendation to any prospective investor.